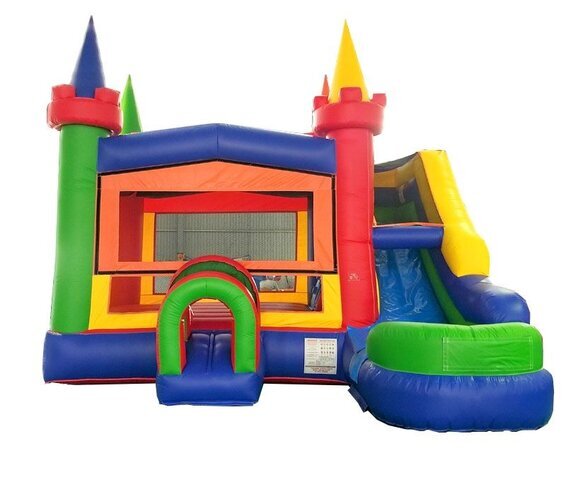 Rainbow Combo
Actual Size: 20 x 19 x 16




Introducing the Rainbow Combo Bounce House – the ultimate source of fun and excitement for children of all ages! This vibrant and eye-catching inflatable bounce house is perfect for birthday parties, family gatherings, and any event where kids need a safe and entertaining play area.
The Rainbow Combo Bounce House offers a variety of activities that will keep children entertained for hours. With its spacious jumping area, kids can bounce and leap to their heart's content, experiencing the joy of weightlessness and the thrill of bouncing high in the air. The soft and bouncy floor ensures a safe landing, allowing kids to enjoy endless fun without any worries.
But that's not all – this bounce house also features a thrilling slide that adds an extra element of excitement. Kids can climb up the ladder, slide down, and experience the rush of sliding into a soft and cushioned landing area. The slide is designed with safety in mind, featuring high side walls and sturdy construction to prevent accidents.
In addition to the jumping area and slide, the Rainbow Combo Bounce House also includes other engaging features. With its vibrant rainbow colors and cheerful graphics, it creates a visually appealing environment that sparks children's imagination. The mesh windows provide excellent ventilation, allowing parents and guardians to keep an eye on the little ones while they play.
Safety is our top priority, and the Rainbow Combo Bounce House meets or exceeds all safety standards. It is constructed with reinforced stitching and heavy-duty materials, ensuring a secure and stable play environment. Rest assured, your children will be safe and secure while having the time of their lives.
Bring the joy and excitement of a bounce house to your next event with the Rainbow Combo Bounce House. Watch as children's faces light up with delight and laughter as they jump, slide, and play in this colorful and entertaining inflatable. Create unforgettable memories and make your event the talk of the town with this must-have addition to any party or gathering.Don't miss out on the fun – order the Rainbow Combo Bounce House today and let the bouncing adventures begin!
*THIS SLIDE COMES EQUIPPED WITH A BUMPER ATTACHMENT*