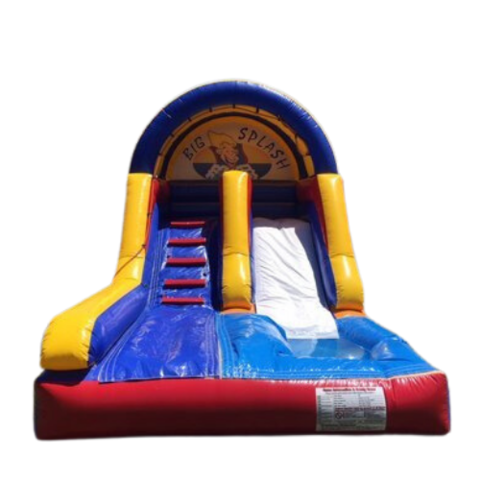 12' Big Splash Water Slide
Best for ages 3+ and Up |1 Outlet Needed
Size 24 x 12 x 12
Actual Size: 24L x 12W x 12H




Introducing our thrilling 12' Water Slide, the ultimate summer attraction for kids and adults alike! Get ready to make a splash and beat the heat with this exhilarating water slide that guarantees hours of fun and excitement.
Designed with safety and durability in mind, our 12' Water Slide features a sturdy construction and high-quality materials that can withstand endless hours of sliding and splashing. The slide is made from premium-grade, puncture-resistant PVC material, ensuring a smooth and safe ride every time.
With a generous height of 12 feet, this water slide offers an adrenaline-pumping descent that will leave you breathless. The wide slide surface provides ample room for kids and adults to slide down together, making it perfect for family gatherings, birthday parties, or backyard playdates.
Safety is our top priority, which is why the 12' Water Slide comes with safety features such as sturdy side rails and a secure landing pool at the bottom. The landing pool ensures a soft and cushioned landing, minimizing the risk of any accidents or injuries.
Whether you're hosting a summer party or just want to enjoy some outdoor fun, our 12' Water Slide is the perfect addition to your backyard. Get ready to create unforgettable memories and make a splash with this thrilling water slide that guarantees endless entertainment for all ages.Note: Adult supervision is recommended at all times while using the 12' Water Slide to ensure a safe and enjoyable experience.
*THIS SLIDE COMES EQUIPPED WITH A POOL ATTACHMENT*