The Best Bounce House Rentals in RI
Welcome to My Sons Inflatables, Rhode Island's premier bounce house rentals company, where we specialize in making your party a fun-filled and unforgettable experience for all your guests! As a family-owned and operated company based in North Providence, we proudly serve Warwick, Cranston, Providence, and the surrounding neighborhoods of East Greenwich, Barrington, and Lincoln. Our priority is to provide exceptional customer service and ensure everyone, especially kids, have a blast at your event, whether it's held at a local park or near the famous Providence River.
At My Sons Inflatables, we take pride in our extensive selection of rental items, including bounce houses, water slides, and other party equipment. We have something for everyone, and our dedicated staff works tirelessly to make sure your event is a huge success. With our competitive pricing and top-notch service, we've become the go-to place for party rentals in RI, even catering to events near iconic landmarks like the Rhode Island State House and the historic Newport Mansions.
We understand the importance of safety at any event. That's why all our products, including bounce house rentals and water slide rentals, meet the highest safety standards. Our well-trained staff will handle the delivery, setup, and tear down of all rental items, leaving you with more time to enjoy the party in vibrant neighborhoods like Federal Hill, Fox Point, or Wayland Square.
Our commitment to customer service sets us apart from other companies in the industry. We work closely with our customers from cities like Providence and Pawtucket to ensure that every aspect of their event, from equipment selection to delivery and setup, is handled with the utmost care. We even offer an easy-to-use online booking system through eventrentalsystems, so you can reserve your items at your convenience.
In addition to our wide range of bounce houses and water slides, we also offer party essentials such as tables, chairs, tents, and concessions. If you have any questions, don't hesitate to consult our FAQs or reach out to our friendly customer service team.
No matter where you're located in Rhode Island, My Sons Inflatables is the perfect choice for all your party rental needs. With our unbeatable selection, competitive prices, and unparalleled customer service, we guarantee that your next event will be a hit! Don't wait any longer; let My Sons Inflatables bring the fun to your next event with our amazing selection of bounce house rentals in RI. Give us a call or visit our website to rent the perfect items for your party today!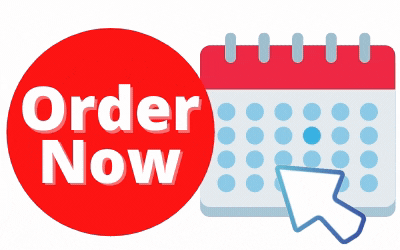 Easy Online Reservations
Making your party and event reservations at My Sons Inflatables is fast and easy with our online reservations system. Just follow the following steps and click the link below.

24/7 Online Ordering Process
The Reservation Process is Super Simple:

1. Select the time and date(s) of your event
2. Select the items you are interested in.
3. Input your information, as well as where the event will be held.
4. Pay a small deposit or pay in full.
That's it. You did it!
Check Availability
24/7 Easy Online Ordering
Select the Date and Time of your party or event.
Everything displayed after date selection is AVAILABLE for rent.
Select the items you are interested in.
Pay a small deposit or pay in full.
Instant order confirmation = Peace of Mind
Why Choose My Sons Inflatables ?
Great customer service that works with you through the entire process.
More 5-Star Google reviews than our competitors.
NOW OFFERING FREE LOCAL DELIVERY TO ALL OF RI!
State inspected and insured.
All of our equipment is high quality, clean, and sanitized.
Our Corporate Valued Customers
See Our Top Renting Rhode Island Inflatables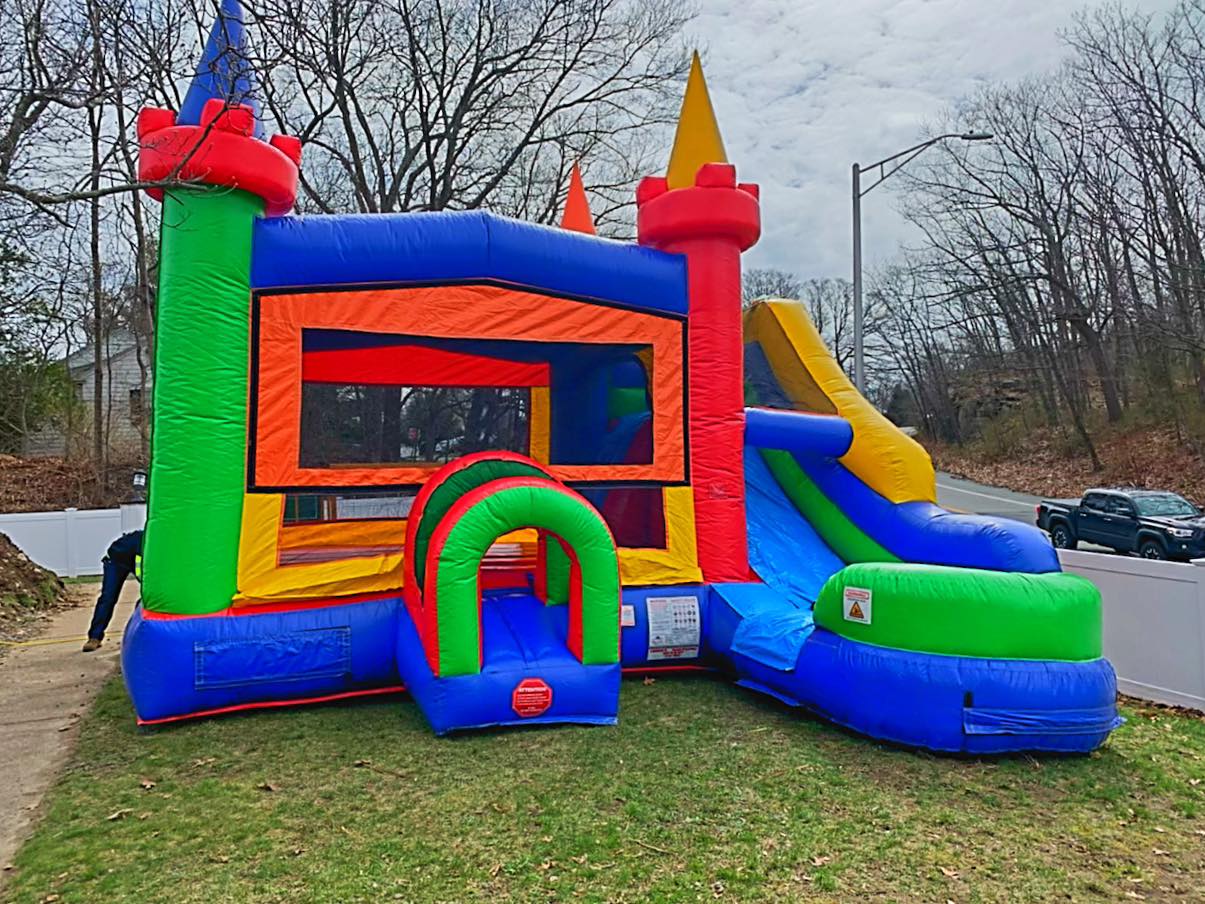 Bounce Houses
Discover the ultimate fun at My Sons Inflatables, Rhode Island's top choice for bounce house rentals. Our vast collection of bouncy games, including jumpers, slides, and moonwalk rentals, ensures an exciting experience for kids of all ages. Whether it's a baby's first birthday in Greenwich or a lively party in West Cumberland, our bounce house rentals are perfect for all celebrations. We take pride in being the go-to place for moonwalk rentals and jumper games in Kingstown, South County, and beyond. Choose My Sons Inflatables for an unforgettable time with family and friends at your next event!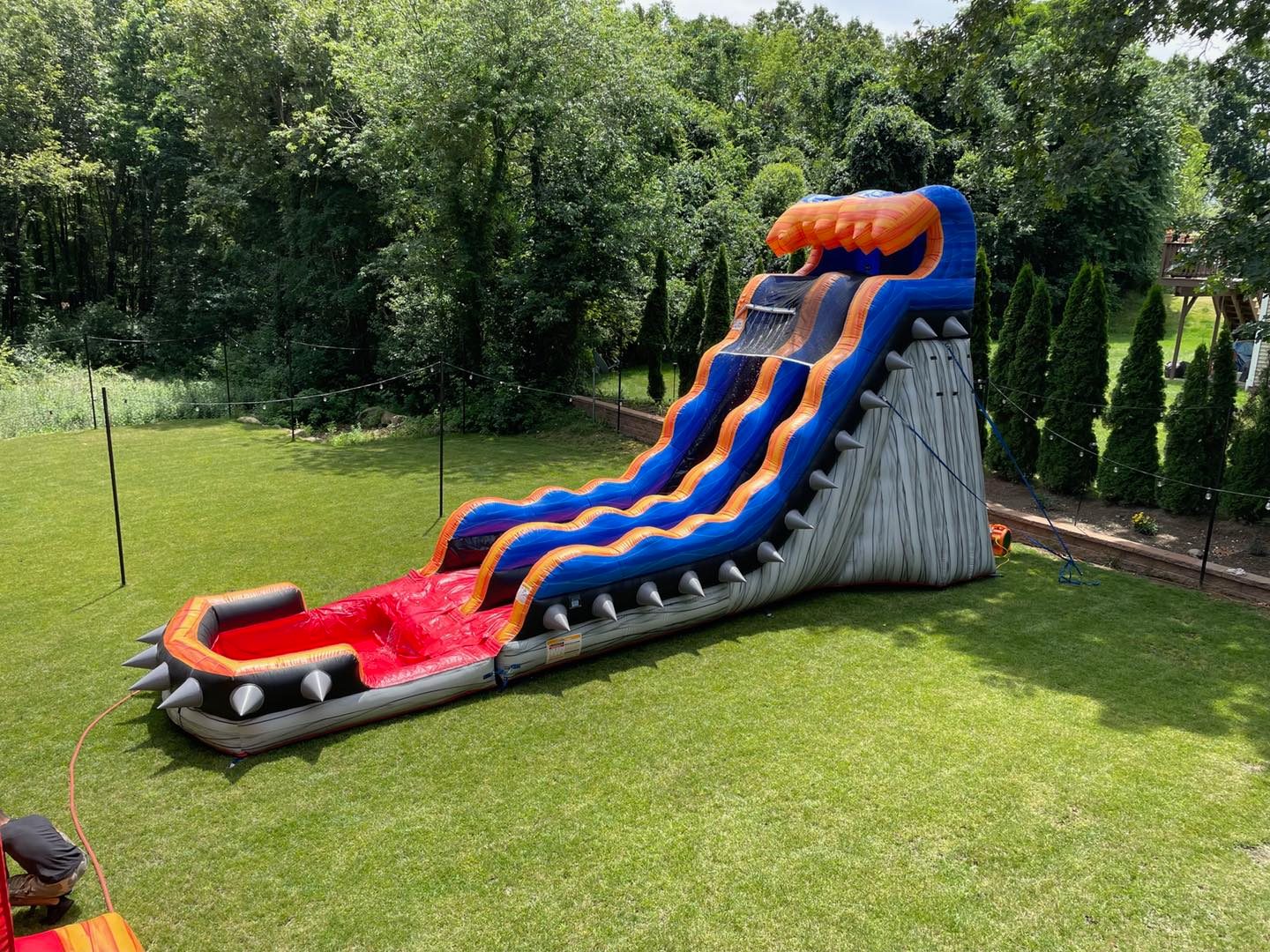 Water Slides
My Sons Inflatables proudly offers an amazing range of water slide rentals in Kingstown, Newport, Tiverton, and beyond. Perfect for birthdays, parties, or any fun-filled event, our vibrant water slides add a splash of color and excitement for kids of all ages. We handle every detail, from delivery to setup, ensuring your celebration is a hit. Our rentals also include essentials like tables and chairs, so you can focus on being the star of your party. Choose My Sons Inflatables for unbeatable fun and entertainment with our top-quality water slide rentals in Rhode Island!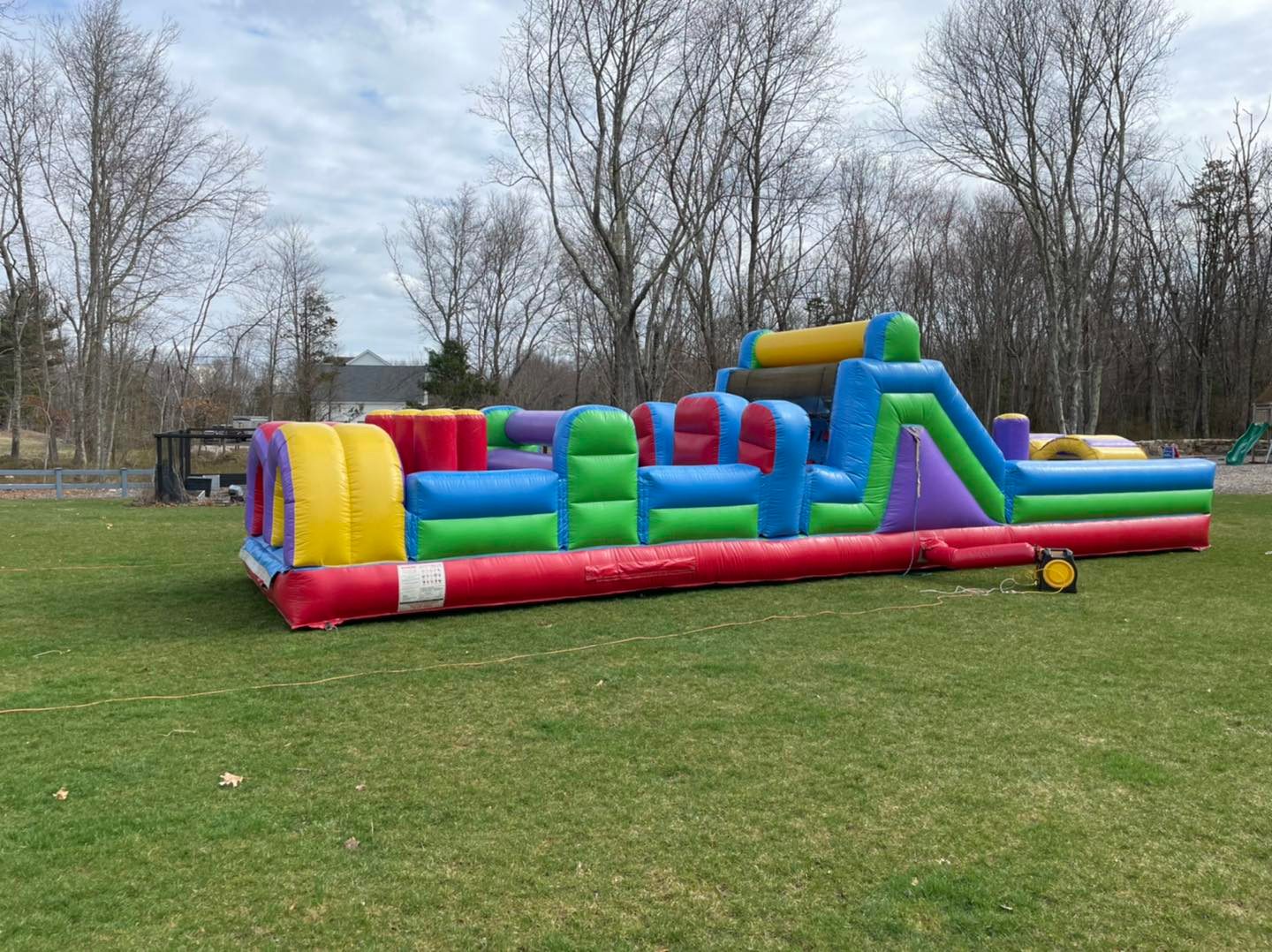 Obstacle Courses
My Sons Inflatables is your one-stop destination for obstacle course rentals in Rhode Island. As RI's top choice for party fun, we offer an impressive variety of options that will challenge and entertain guests of all ages. Our team handles every detail from setup to pickup, ensuring a hassle-free experience so you can enjoy being the star of your event. Choose My Sons Inflatables as the go-to place for the ultimate adventure and excitement with our top-quality obstacle course rentals. Let us pave the way to an unforgettable celebration for you and your loved ones!
My Sons Inflatables is the #1 provider for fun in Rhode Island. We rent, set up, and take down every event when booking a party rental Rhode Island events need. The list goes on and on with the countless times our crews have delivered fun all over Rhode Island. Book your fun online today for a party rental in RI. We offer easy-to-navigate online reservations for your convenience. We look forward to providing fun to your event with a party rental in Rhode Island!
Looking for the best selection of party rentals RI has to offer? Look no further, because you have found the most trusted and reliable party rental company in the greater Rhode Island area, My Sons Inflatables. Our entertaining party rentals in RI feature the popular bounce house with additional action-packed elements such as basketball hoops, interior climb walls, escape slides, and more! We like to call them, combos! You can choose from our varied selection of themes that present the latest and favorite movie and cartoon characters like the cast from Frozen and Mickey Mouse.
We only want to offer the best possible products, so all of our inflatable party rentals RI are manufactured with a "Lead-Free" vinyl technology that is durable yet soft enough to offer a great bounce for its users. We love supporting local schools, so if you are a part of the Rhode Island School District, please give us a call! Take a look around and see what party rental RI is right for you then click Add to Cart to book today.
Delivery Information
My Sons Inflatables is proud to serve the city of North Providence and the Greater Rhode Island Area for years! We pride ourselves in the quality of our inflatable bounce houses and water slide rentals over the other guys. We deliver all 7 days of the week for your convenience and our easy online schedule and checkout process make renting a bouncer for your kid's birthday the easiest it's ever been! Just imagine the look on your children's faces when they come home to their surprise birthday party and see the amazing Xtreme Dance Dome Bounce House all to them and their friends. You might just win the parent of the year award in their books and all you had to do was have dad order it from his phone. Just be sure you don't forget the popcorn!
Don't worry parents, My Sons Inflatables has you covered. You order the bounce houses, tables & chairs for your guests and some cold beverages, and we'll deliver and set up exactly when you want us to and you get all the credit!
Service Area For Your Party Rentals Rhode Island
We have been servicing the great community with our party rentals Rhode Island for years. When making deliveries, we need to ensure that the location of the set-up has access to power and water(optional) sources. Please ensure the pathway and setup area are free and clear before our arrival. We deliver to cities such as but not limited to: Providence, Johnston, Cranston, Pawtucket, Barrington, Warwick, Woonsocket, Cumberland, Lincoln, North Providence.
If you have concerns about a certain location or event setting, please call us at (401) 226-4317 or complete the contact us form. Our friendly staff is standing by and ready to assist! Click here To Shop by every category of party rentals in Rhode Island we offer!
Our Service Area
Proud to Serve The Following Areas:
If your party or event is beyond that radius, just let us know! We may be able to make special accommodations to suit your event.
NOTE: Fees may vary depending on how far you are outside our service area.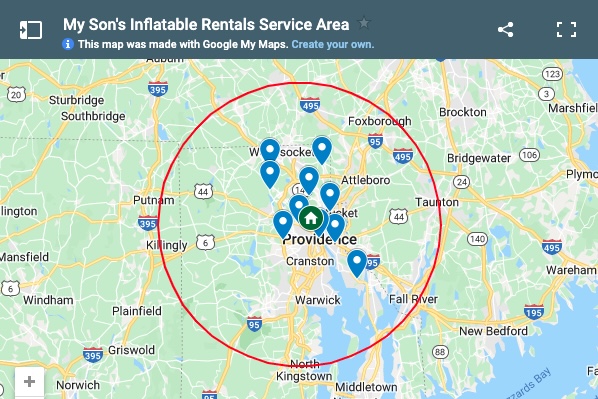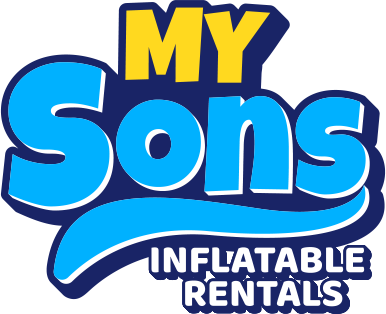 When it comes to fun in Rhode Island, My Sons Inflatables delivers!
At My Sons Inflatables, we're confident that we're the best choice for bounce house and water slide rentals in Rhode Island. Our commitment to customer satisfaction, safety, and affordability is unmatched in the industry, and our extensive selection ensures that your next event, whether it's a birthday party in East Greenwich, a school fair at West Kingston Elementary or a church gathering at South Newport Baptist, will be one to remember.
When you choose My Sons Inflatables, you're not just renting a bounce house or water slide; you're choosing a company that cares about your event's success. Our team of experts is dedicated to providing the best experience for your guests, from setting up the equipment to ensuring everything runs smoothly throughout the event. We understand how important it is to create a memorable and enjoyable experience for kids and adults alike, and that's why we go above and beyond to exceed your expectations.
We are proud to serve customers in various cities throughout Rhode Island, including Cranston, Tiverton, Barrington, Bristol, and Warren. With our easy-to-use online booking system, eventrentalsystems, reserving your rental items has never been more convenient. We strive to make your event planning process as seamless as possible, allowing you to focus on the fun aspects of your gathering.
At My Sons Inflatables, we believe that every event should be an exciting and memorable experience for all involved. We have everything you need to create the perfect atmosphere, whether you're hosting a birthday party at East Bay Montessori School or a community event in West Barrington. Our commitment to safety, reliability, and top-notch customer service sets us apart from the rest, making us the go-to place for bounce house and water slide rentals in Rhode Island.
So, when it comes time to plan your next event, trust the experts at My Sons Inflatables to deliver the fun and excitement you and your guests deserve. Don't settle for less – let us make your next event a hit that will be remembered for years to come. Visit our website or give us a call today to reserve your rentals and experience the difference that My Sons Inflatables can make for your special occasion!
Book Online!