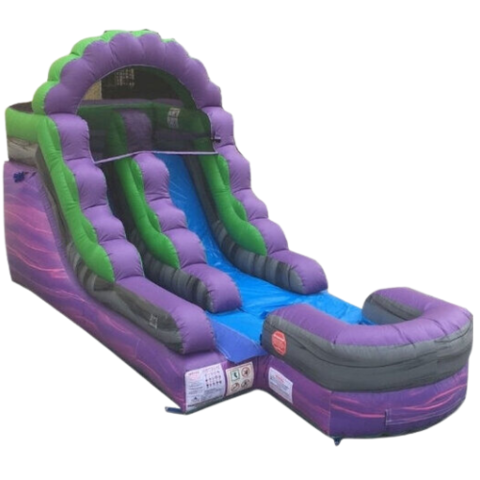 12ft Purple Marble
Actual Size: 23L x 9W x 13.5H




Introducing our exhilarating 12ft Purple Marble Water Slide! Get ready to make a splash and experience the ultimate summer fun with this vibrant and eye-catching water slide.
Designed with thrill-seekers in mind, our water slide stands tall at 12 feet, guaranteeing an adrenaline-pumping ride for kids. Its striking purple marble design adds a touch of elegance and uniqueness to any outdoor event or party.
Constructed with high-quality materials, this water slide ensures durability and safety. The sturdy base provides stability, allowing you to enjoy hours of sliding without worrying about stability issues. Additionally, the smooth surface ensures a seamless glide, making every descent a memorable one.
Safety is our top priority, which is why our 12ft Purple Marble Water Slide comes equipped with safety features such as side rails and a secure ladder for easy access. These features ensure that riders can enjoy the exhilarating experience without compromising their well-being.
Perfect for backyard gatherings, birthday parties, or community events, our water slide guarantees endless entertainment for everyone. Watch as the vibrant purple color and marble pattern capture the attention of guests, creating a visually stunning centerpiece that will leave a lasting impression.
So, why settle for ordinary when you can have extraordinary? Make a splash this summer with our 12ft Purple Marble Water Slide and create unforgettable memories that will have everyone talking about your event for years to come.
*THIS SLIDE COMES EQUIPPED WITH A BUMPER ATTACHMENT*