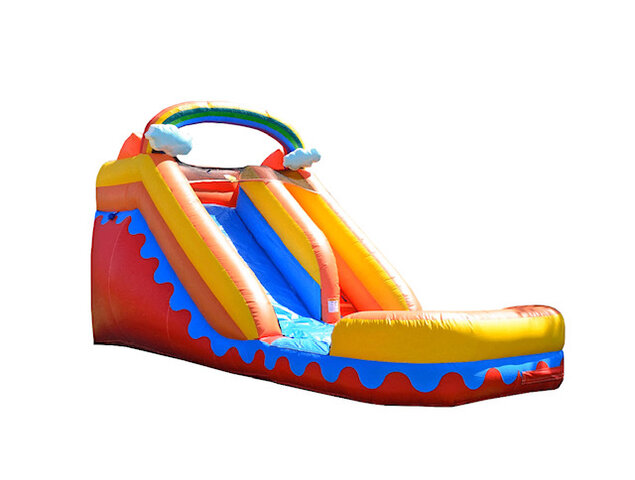 14ft Rainbow Single Lane
Actual Size: 24L x 11W x 14H




Introducing our exhilarating 14ft Rainbow Single Lane water slide! Get ready for a splash-filled adventure that will make a big splash at your next event or party.
This vibrant and eye-catching water slide stands tall at 14 feet, providing hours of fun for kids and adults alike. With its single lane design, participants can race against each other, adding a competitive element to the excitement.
Constructed with safety in mind, our water slide features high-quality materials that ensure a secure and enjoyable experience. The sturdy base keeps the slide stable, while the reinforced side walls provide extra support and stability as you glide down.
The rainbow-themed design adds a touch of whimsy and charm to any setting. The bright and vibrant colors will capture the attention of all your guests, creating a visually stunning centerpiece for your water-themed event.
Whether you're hosting a backyard party, a community event, or a summer camp, our 14ft Rainbow Single Lane water slide is guaranteed to be a crowd-pleaser. Watch as the laughter and excitement fill the air, creating lasting memories for everyone involved.Don't miss out on the opportunity to create a thrilling and unforgettable experience for your guests. Order the 14ft Rainbow Single Lane water slide today and make a splash at your next event!
*THIS SLIDE COMES EQUIPPED WITH A POOL ATTACHMENT*