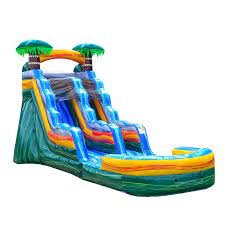 15ft Cali Palm
Actual Size: 28L x 13W x 15H




Introducing the 15ft Cali Palm Water Slide - the ultimate summer entertainment for all ages! Get ready to make a splash and create unforgettable memories with this exhilarating water slide.
Designed with a vibrant and eye-catching Cali Palm theme, this 15ft water slide will transport you to a tropical paradise. The towering palm trees and vibrant colors will instantly set the mood for a fun-filled day in the sun.
Constructed with high-quality and durable materials, the 15ft Cali Palm Water Slide ensures safety and longevity. The slide is made from heavy-duty PVC material that is puncture-resistant, guaranteeing hours of non-stop sliding action.
With its impressive height, this water slide offers an exciting and thrilling ride for both kids and adults. Climb to the top, feel the rush of adrenaline, and slide down into a refreshing pool of water. The splash landing will keep you cool and refreshed during those hot summer days.
Setting up the 15ft Cali Palm Water Slide is a breeze. It comes with an easy-to-use electric blower that inflates the slide in minutes. The slide also features safety handles and steps, ensuring a secure and stable climbing experience.
Perfect for backyard parties, family gatherings, or community events, this water slide guarantees endless hours of fun and laughter. It will be the highlight of any summer celebration, creating unforgettable moments for everyone involved.So, why wait? Bring the excitement of a water park right to your own backyard with the 15ft Cali Palm Water Slide. Get ready to slide, splash, and soak up the sun with this must-have summer accessory. Order yours today and make this summer one to remember!
*THIS SLIDE COMES EQUIPPED WITH A POOL ATTACHMENT*