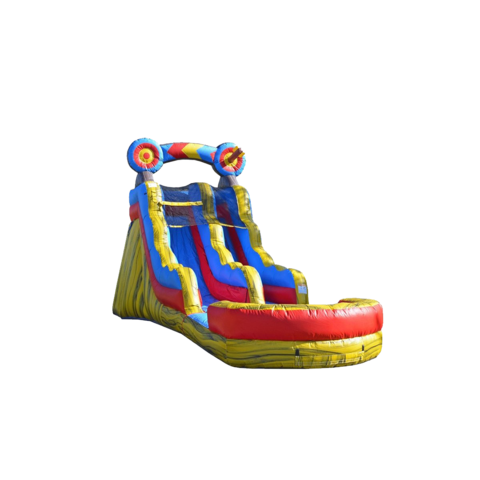 15ft Target Splash
Actual Size: 28L x 13W x 15H




Introducing the exhilarating 15ft Target Splash water slide! Get ready for endless summer fun with this thrilling inflatable slide that will keep kids and adults entertained for hours.
This impressive water slide stands at an impressive 15ft tall, making it perfect for backyard parties, birthdays, or any outdoor gathering. Its vibrant colors and eye-catching design will instantly attract attention and create a festive atmosphere.
With its easy setup and durable construction, this water slide is built to last. Made from high-quality materials, it can withstand hours of play and ensure a safe and enjoyable experience for everyone. The slide features a wide and slippery surface that guarantees a thrilling ride every time.
What sets this water slide apart is the exciting target game at the end. Challenge your friends and family to hit the bullseye as they slide down, adding an extra element of competition and excitement. It's a great way to improve coordination and have a blast at the same time.
Safety is a top priority, and this water slide is designed with that in mind. It includes safety features such as sturdy handrails and a soft landing pad to ensure a secure landing. Additionally, the slide is equipped with a water sprinkler system that keeps the surface wet and slippery for maximum fun.
The 15ft Target Splash water slide is suitable for kids, as well as adults who are young at heart. It can accommodate multiple users at once, making it ideal for group play and friendly races.Don't miss out on the ultimate summer experience. Bring home the 15ft Target Splash water slide today and create unforgettable memories with your loved ones. Get ready to slide, splash, and hit the target for endless laughter and enjoyment!
*THIS SLIDE COMES EQUIPPED WITH A POOL ATTACHMENT*