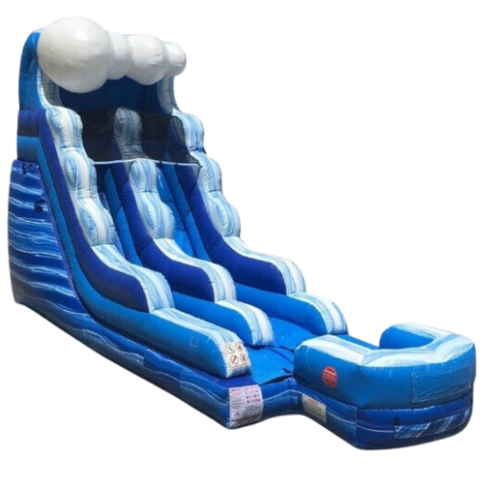 15ft tidal wave
Actual Size: 27L x 9W x 15H




Introducing the exhilarating 15ft Tidal Wave Water Slide - the ultimate summer adventure for thrill-seekers of all ages! Get ready to make a splash and create unforgettable memories with this jaw-dropping inflatable water slide.
Standing tall at an impressive 15 feet, this water slide is designed to provide an adrenaline-pumping experience like no other. Climb up to the top, feel the anticipation building, and brace yourself for an exhilarating ride down. As you slide down the steep slope, prepare to be engulfed by a massive tidal wave of refreshing water, adding an extra element of excitement to your descent.
Crafted with utmost safety in mind, this water slide features high-quality, durable materials that ensure a secure and stable structure. The sturdy base and reinforced sides guarantee a smooth and controlled sliding experience, while the non-slip surface keeps you safe as you navigate your way down.
Perfect for backyard parties, summer festivals, or any outdoor event, the 15ft Tidal Wave Water Slide will be the highlight of any gathering. Watch as the laughter and joy of your guests reach new heights as they take turns conquering this thrilling attraction. Whether you're hosting a birthday celebration, a family reunion, or simply want to beat the heat, this water slide promises hours of endless fun and entertainment.
So, why wait? Dive into the excitement and bring the thrill of a water park right to your doorstep with the 15ft Tidal Wave Water Slide. Get ready to make a splash, create unforgettable memories, and experience the ultimate summer adventure like never before.
*THIS SLIDE COMES EQUIPPED WITH A BUMPER ATTACHMENT*