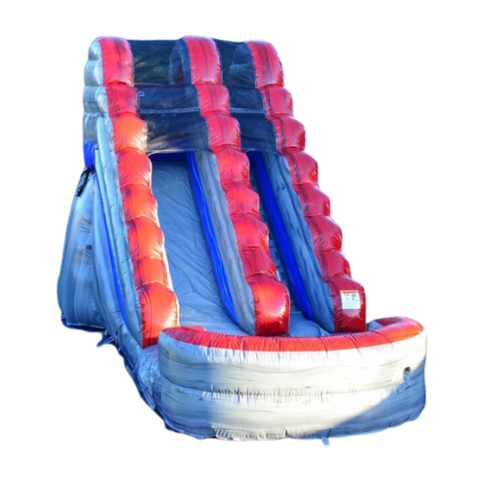 15ft Titanium
Actual Size: 28L x 13W x 15H




Introducing the 15ft Titanium Water Slide, the ultimate summer adventure for thrill-seekers of all ages! This exhilarating water slide is designed to provide hours of non-stop fun and excitement in the comfort of your own backyard.
Crafted with precision and durability in mind, the 15ft Titanium Water Slide is made from top-quality materials, ensuring a safe and enjoyable experience for everyone. Its sturdy frame and reinforced sidewalls guarantee stability and support, allowing you to slide with confidence.
With a height of 15 feet, this water slide offers an adrenaline-pumping descent that will leave you breathless. The smooth and slippery surface provides the perfect amount of speed, while the splash pool at the bottom ensures a refreshing landing every time.
Whether you're hosting a backyard party, planning a family gathering, or simply looking to beat the heat, the 15ft Titanium Water Slide is a must-have addition to your outdoor entertainment arsenal. Watch as kids and adults alike line up for their turn, laughing and screaming with joy as they slide down this thrilling water ride.
Safety is our top priority, which is why the 15ft Titanium Water Slide features high side walls and safety handles for extra support and stability. Don't miss out on the ultimate summer adventure! Get the 15ft Titanium Water Slide today and create memories that will last a lifetime. Soak up the sun, feel the rush of the slide, and make a splash with this top-of-the-line water slide.
*THIS SLIDE COMES EQUIPPED WITH A POOL ATTACHMENT*