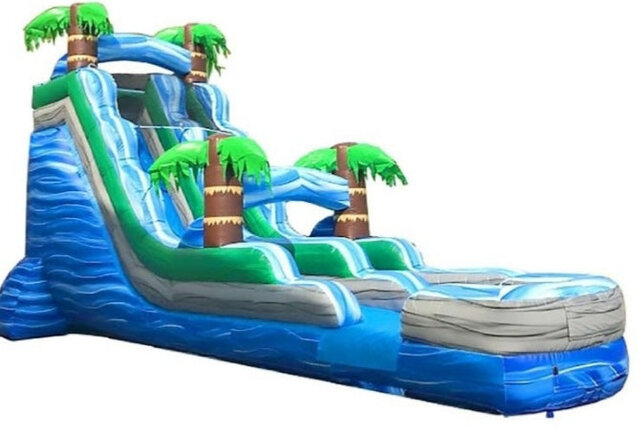 18ft Tropical Paradise (Wet/Dry)
Actual Size: 30L x 11W x 18H





$450.00

Please call to reserve this item

Welcome to our 18ft Tropical Paradise Water Slide! Get ready to experience the ultimate thrill of sliding down into a tropical oasis.
Designed with adventure seekers in mind, this water slide stands tall at an impressive 18 feet, making it perfect for both kids and adults. Whether you're hosting a backyard party, a corporate event, or a community gathering, this water slide will surely be the highlight of the day.
As you climb to the top, you'll be greeted by vibrant palm trees and a stunning ocean-themed design. The slide itself is made from high-quality, durable materials that ensure a safe and enjoyable experience for everyone.
Once you take the plunge, you'll be propelled down a smooth and exhilarating water slide that will leave you wanting more. Feel the rush of adrenaline as you twist and turn, splashing into the refreshing pool at the bottom.
Safety is our top priority, which is why this water slide features safety netting on the sides to prevent any accidental falls. Additionally, the slide is equipped with a non-slip surface to ensure a secure grip as you climb and slide.
Setting up the 18ft Tropical Paradise Water Slide is a breeze. Our team will deliver and set it up for you, ensuring everything is properly installed and ready to go. We'll also provide you with clear instructions on how to use and maintain the slide throughout your event.So, what are you waiting for? Book our 18ft Tropical Paradise Water Slide today and bring the thrill of a tropical adventure to your next gathering. Get ready to slide, splash, and create unforgettable memories with friends, family, and colleagues.
*THIS SLIDE COMES EQUIPPED WITH A BUMPER ATTACHMENT*