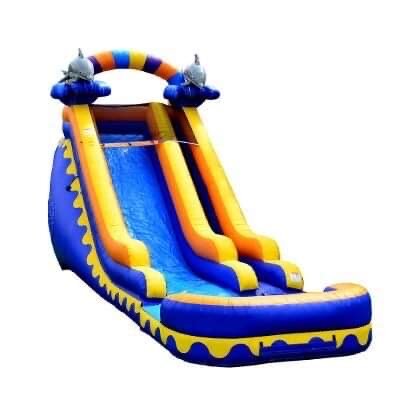 19ft Dolphin Splash (Wet/Dry)
Actual Size: 36L x 11W x 18H




Introducing the exhilarating 19ft Tall Dolphin Splash Water Slide, the ultimate addition to any backyard party! This towering inflatable slide is designed to bring endless fun and excitement to both kids and adults.
With its vibrant colors and eye-catching dolphin theme, this water slide is sure to be the center of attention at any event. Standing at an impressive 19 feet tall, it guarantees a thrilling and adrenaline-pumping experience for all who dare to take the plunge.
Constructed with high-quality, durable materials, the 19ft Tall Dolphin Splash Water Slide ensures a safe and secure sliding experience. The reinforced stitching and commercial-grade vinyl make it resistant to wear and tear, allowing for long-lasting enjoyment.
Featuring a spacious sliding area and a refreshing splash pad at the bottom, this water slide offers the perfect combination of thrills and cooling off on hot summer days. The inclined sliding surface ensures a smooth and fast ride, while the safety netting and padded sides provide added protection.
Setting up the 19ft Tall Dolphin Splash Water Slide is a breeze, thanks to its user-friendly design and included air blower. In just a few minutes, you can have this giant slide inflated and ready for action. It is also easy to deflate and store, making it convenient for transportation and saving space.Whether you are organizing a birthday party, a community event, or simply want to create unforgettable memories with your family and friends, the 19ft Tall Dolphin Splash Water Slide is the perfect choice. Get ready to make a splash and create an unforgettable experience with this incredible water slide!
*THIS SLIDE COMES EQUIPPED WITH A POOL ATTACHMENT*