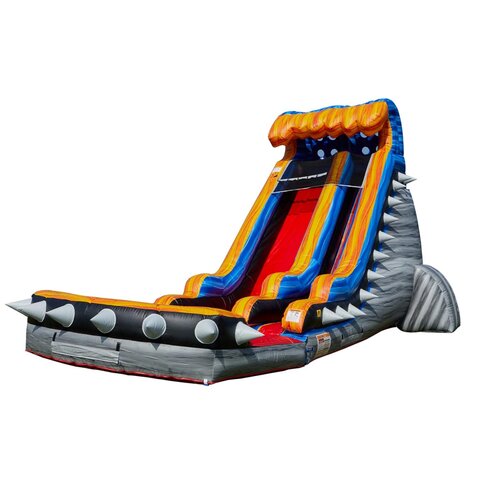 19ft Rockn' Roll
Setup Area: 39L x 13W x 20H




Introducing the exhilarating 19ft Rockn' Roll Water Slide - the ultimate addition to any summer party or event! Get ready to experience non-stop thrills and spills as you slide down this towering inflatable slide.
Standing at an impressive 19 feet tall, this water slide is sure to catch the attention of everyone around. Its vibrant colors and eye-catching design will create an instant focal point, making it a standout attraction at any gathering.
Constructed with high-quality, durable materials, the Rockn' Roll Water Slide guarantees a safe and enjoyable experience for all ages. The slide features a gentle slope at the top, allowing participants to build up momentum before plunging into the refreshing pool at the bottom. With its smooth, slippery surface, riders will glide effortlessly, creating an adrenaline-fueled adventure.
Safety is our top priority, which is why the Rockn' Roll Water Slide is equipped with safety features such as sturdy handrails and durable materials! Additionally, it has a splash pad and bumper at the bottom to slide into!
Setting up the Rockn' Roll Water Slide is a breeze. It comes with a powerful blower that inflates the slide within minutes, allowing you to spend more time enjoying the fun and less time on setup. The slide also includes a water hose attachment, ensuring a continuous flow of water for an extra slippery ride.
Whether you're hosting a backyard party, a corporate event, or a community gathering, the 19ft Rockn' Roll Water Slide is guaranteed to be a hit. It provides endless entertainment for kids and adults alike, making it a must-have addition to any summer celebration.
Don't miss out on the opportunity to create unforgettable memories. Get your hands on the 19ft Rockn' Roll Water Slide today and take your event to the next level of excitement and fun!
*THIS SLIDE COMES EQUIPPED WITH A POOL ATTACHMENT*