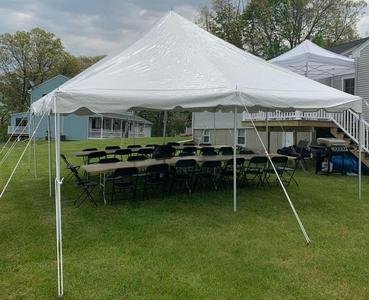 20x20 Canopy Tent (Grass setup only)
Setup Area: 30x30
Outlets: 1




Introducing our versatile and spacious 20x20 Pole Tent, perfect for all your outdoor events and gatherings! Designed specifically for grass setups, this tent is a must-have for any occasion.
Crafted with high-quality materials, our 20x20 Pole Tent is built to withstand the elements and provide a reliable shelter. The sturdy center poles and durable fabric ensure stability and protection against wind, rain, and sun, guaranteeing a comfortable experience for your guests.
Measuring an impressive 20x20 feet, this tent offers space to accommodate up to 40 people. Whether you're hosting a wedding reception, corporate event, birthday party, or any other celebration, our tent provides the perfect setting for your guests to mingle, dine, and enjoy the festivities.
Not only does our 20x20 Pole Tent offer practicality, but it also adds a touch of elegance to any outdoor space. Its sleek and timeless design effortlessly blends with various themes and decors, ensuring a visually appealing atmosphere that will impress your guests.
Furthermore, our 20x20 Pole Tent can be customized to suit your specific needs. Whether you require sidewalls for added privacy or additional accessories such as lighting and flooring, we offer a range of options to enhance your tent and create a truly unforgettable experience.
Invest in our 20x20 Pole Tent today and elevate your outdoor event to new heights. With its exceptional quality, spaciousness, and versatility, this tent is the perfect choice for all your grass setup needs. Don't settle for anything less when it comes to creating a memorable and comfortable space for your guests.