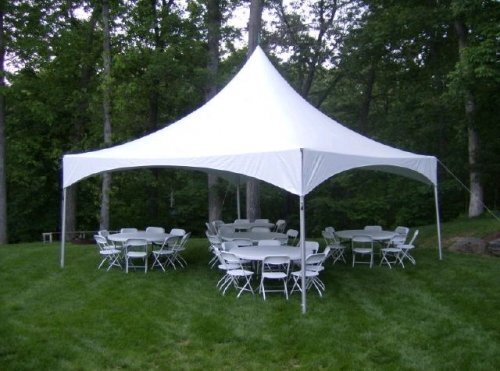 20x20 High Peak Frame Tent
Introducing our 20x20 High Peak Frame Tent, the perfect solution for all your outdoor event needs. This tent is designed to provide ample space and superior functionality, ensuring a memorable experience for your guests. It can even be connected to addiitonal 20x20 frame tents with a guttering system if you are looking for a larger sized tent!
Crafted with high-quality materials, our 20x20 High Peak Frame Tent offers exceptional durability and weather resistance. The sturdy frame is constructed from heavy-duty steel, providing a solid foundation that can withstand various weather conditions, including rain and wind.
Featuring a high peak design, this tent not only offers a spacious interior but also adds an elegant touch to any event. The peak height of the tent allows for better air circulation and ensures that your guests stay cool and comfortable throughout the event.
With a size of 20x20 feet, this tent provides enough space to accommodate up to 50 guests. Whether you're hosting a wedding, corporate event, or outdoor party, our 20x20 High Peak Frame Tent offers the perfect venue for your special occasion.
To enhance the overall experience, you can customize the tent with various accessories such as sidewalls, flooring, lighting, and heating options. These add-ons not only increase the functionality of the tent but also allow you to create a personalized and inviting atmosphere.
Invest in our 20x20 High Peak Frame Tent and elevate your outdoor events to the next level. With its exceptional quality, easy setup, and customizable options, this tent is the ultimate choice for anyone looking to create a memorable and successful event.