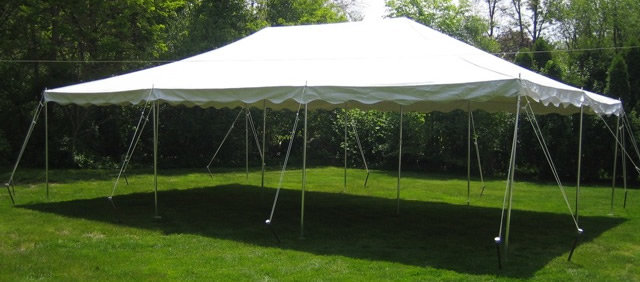 20x30 Canopy tent (Grass setup only)
20x30 pole tent
*Must be setup on grass/dirt.
Introducing our versatile 20x30 Pole Tent, designed specifically for grass setups. Whether you're hosting a wedding reception, corporate event, or any outdoor gathering, this tent is the perfect solution to shelter your guests from the elements while adding an elegant touch to your event.
With its spacious 600 square feet interior, this pole tent provides ample room to comfortably accommodate up to 60 guests. The high-quality, durable vinyl material ensures long-lasting performance, making it suitable for multiple events throughout the year.
The 20x30 Pole Tent features a peaked roof design, allowing for efficient rainwater runoff and preventing water from pooling on top. This ensures your guests stay dry and comfortable, no matter the weather conditions.
For added convenience, the tent can be easily customized with sidewalls, allowing you to create a more enclosed and intimate space.
Safety is our top priority, which is why our 20x30 Pole Tent is manufactured using fire-resistant materials that comply with industry standards. You can have peace of mind knowing that your guests are protected in case of any unforeseen incidents.
Whether you're hosting a wedding, birthday party, or corporate event, our 20x30 Pole Tent is a reliable and stylish choice for your grass setup. Invest in this versatile tent today and create unforgettable memories for your guests, rain or shine.