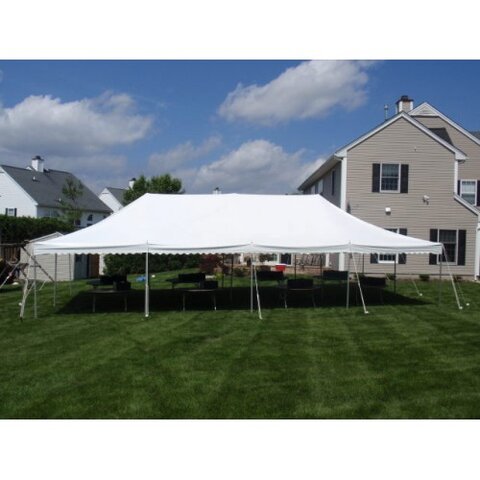 20x40 Canopy Tent (Grass Setup Only)
Introducing our 20x40 Pole Tent, the perfect solution for your outdoor event needs. Designed specifically for grass setups, this tent provides ample space and shelter for any occasion.
With a generous size of 20x40 feet, this pole tent offers a sprawling area that can comfortably accommodate large gatherings, such as weddings, parties, corporate events, and more. Its spacious interior allows for flexible seating arrangements, dance floors, or any other setup you desire.
Crafted with durability in mind, our 20x40 Pole Tent features sturdy poles and high-quality vinyl fabric that is both waterproof and UV-resistant. This ensures the tent can withstand various weather conditions, providing reliable protection against rain or harsh sunlight.
Safety is our top priority, which is why our 20x40 Pole Tent is engineered to meet industry standards. The tent is fire-resistant and includes reinforced stitching for added stability and longevity. Rest assured, your guests will be protected and comfortable throughout the event.
Customization options are available to make your event truly unique. Choose from a variety of sidewall options to create a more enclosed space, or leave it open for a breezy and airy atmosphere. Additionally, our team is always ready to assist you in selecting the right accessories, such as lighting, flooring, and heating, to enhance the overall experience.
Invest in our 20x40 Pole Tent and elevate your outdoor event to new heights. Its spaciousness, durability, and ease of setup make it the perfect choice for any occasion. Create unforgettable memories and provide your guests with a comfortable and stylish environment.