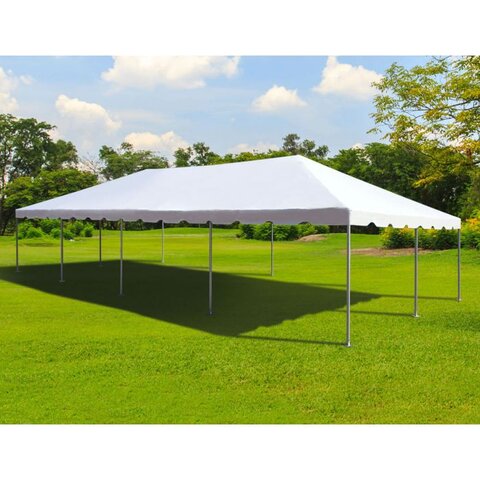 20x40 West Coast Frame Tent
Introducing the 20x40 West Coast Frame Tent, the perfect solution for all your outdoor event needs. Whether you're hosting a wedding, corporate gathering, or any other special occasion, this tent offers both style and functionality.
Crafted with the highest quality materials, this frame tent is built to withstand various weather conditions, ensuring your event is protected from rain, wind, and harsh sunlight. The sturdy aluminum frame provides excellent stability, while the durable vinyl top is both waterproof and UV-resistant, keeping your guests comfortable and dry.
With its spacious 20x40 dimensions, this tent offers ample room for seating, dining, and dancing, accommodating large gatherings effortlessly. The open design allows for easy customization, enabling you to create the perfect layout for your event. Whether you prefer a traditional setup or a more modern and chic ambiance, the possibilities are endless.
Additionally, the tent is designed with convenient sidewall options, allowing you to create a fully enclosed space or leave it open for a refreshing outdoor experience. Not only does this frame tent provide functionality, but it also adds a touch of elegance to your event. The sleek and clean design, along with the white color, blends seamlessly with any theme or decor, enhancing the overall aesthetic appeal of your event space.
Invest in the 20x40 West Coast Frame Tent and elevate your outdoor events to new heights. With its durability, versatility, and stylish design, this tent is sure to impress both you and your guests. Create unforgettable memories and ensure the success of your event with this exceptional frame tent.