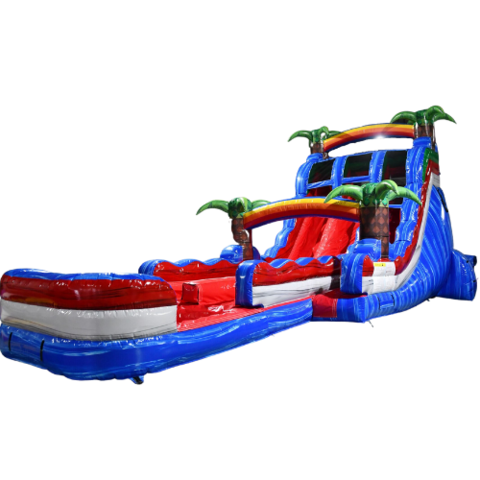 21ft Dual Lane Baja Blast (Wet/Dry)
Actual Size: 59L x 18W x 21H




Introducing the 21ft Dual Lane Baja Blast, the ultimate inflatable water slide for thrill-seekers of all ages! Get ready to experience an adrenaline-pumping adventure as you slide down this exhilarating dual lane water slide.
With its vibrant colors and eye-catching design, the 21ft Dual Lane Baja Blast is sure to be the star attraction at any event or party. Whether you're hosting a backyard gathering, a community fair, or a corporate event, this water slide will provide hours of non-stop fun and entertainment.
Constructed with high-quality materials, this inflatable water slide guarantees durability and safety. The dual lane design allows two participants to slide simultaneously, adding a competitive element to the excitement. Who will reach the splash pool at the bottom first?
Climbing up the ladder to the top of the slide, you can feel the anticipation building. As you reach the summit, take a deep breath and prepare for an exhilarating ride. Feel the rush of the wind as you zoom down the slippery slope. The splash pool awaits at the end, providing a refreshing landing that will leave you wanting more.
The 21ft Dual Lane Baja Blast is not just a water slide, it's an experience. It brings people together, encouraging friendly competition and creating lasting memories. Watch as kids and adults alike laugh, scream, and cheer their way down this thrilling ride.
So, what are you waiting for? Get ready to make a splash with the 21ft Dual Lane Baja Blast. Whether you're a water park owner, party planner, or simply someone who loves adventure, this inflatable water slide is a must-have for your next event. Get ready to experience the thrill and excitement that only the 21ft Dual Lane Baja Blast can provide.
*THIS SLIDE COMES EQUIPPED WITH A POOL ATTACHMENT*