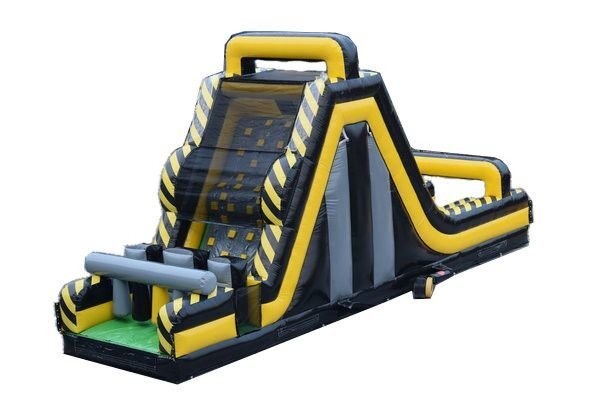 40ft Venom Rock Slide
Actual Size: 39' L x 11' W x 19' H
Setup Area: 45' L x 15' W x 20' H




Introducing the 40ft Venom Rock Slide, the ultimate thrill-seeking adventure for all adrenaline junkies! Get ready to experience the rush of sliding down this monstrous inflatable slide, designed to mimic the exhilarating sensation of conquering rugged terrain.
Standing tall at an impressive 40 feet, this rock slide is a sight to behold. Its vibrant colors and attention to detail make it a standout addition to any event or party. The Venom Rock Slide features a steep inflatable rock wall to climb and race up against your partner while bringing you to the top of the 40ft steep slide to race dwon!
Constructed with top-quality, commercial-grade materials, safety is our utmost priority. The slide is equipped with safety netting on the sides to prevent any accidental falls, ensuring a worry-free experience for all participants. Additionally, the landing area is cushioned with inflatable padding, guaranteeing a soft landing every time.
The 40ft Venom Rock Slide is perfect for a variety of occasions, including birthdays, corporate events, carnivals, and more. It offers endless entertainment for both children and adults, making it a crowd favorite wherever it goes. Whether you're hosting a backyard party or a large-scale event, this slide will undoubtedly be the highlight of the day, providing hours of non-stop fun.
So, what are you waiting for? Take your event to new heights with the 40ft Venom Rock Slide. Get ready to slide, scream, and create unforgettable memories with this exhilarating attraction. Book now and prepare for an adventure like no other!