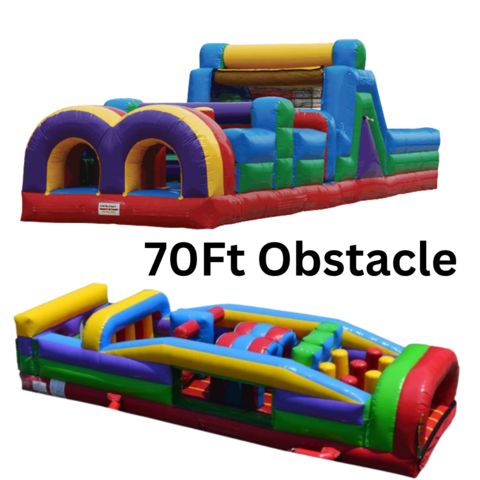 70Ft Obstacle
Connecting our 30FT and 40FT courses together to introduce the thrilling and challenging 70Ft Obstacle, the ultimate test of strength, agility, and determination! This incredible obstacle course is designed to push your limits and provide an exhilarating experience for participants of all ages.
Measuring an impressive 70 feet in length, this obstacle course is packed with a variety of exciting challenges that will keep participants engaged and entertained. From crawling through tunnels and climbing over walls to navigating balance beams and conquering rope swings, this obstacle course has it all.
Built with safety in mind, the 70Ft Obstacle features sturdy construction and high-quality materials to ensure a secure and enjoyable experience for everyone. The course is designed to be easily set up and taken down, making it perfect for events, parties, team-building activities, and more.
Whether you're hosting a birthday party, corporate event, or community gathering, the 70Ft Obstacle is sure to be a crowd-pleaser. Participants will love the thrill of conquering each challenge, building confidence, and creating unforgettable memories.
So, what are you waiting for? Take your event to the next level with the action-packed 70Ft Obstacle. Get ready to unleash your inner adventurer and embark on an unforgettable journey of fun and excitement!