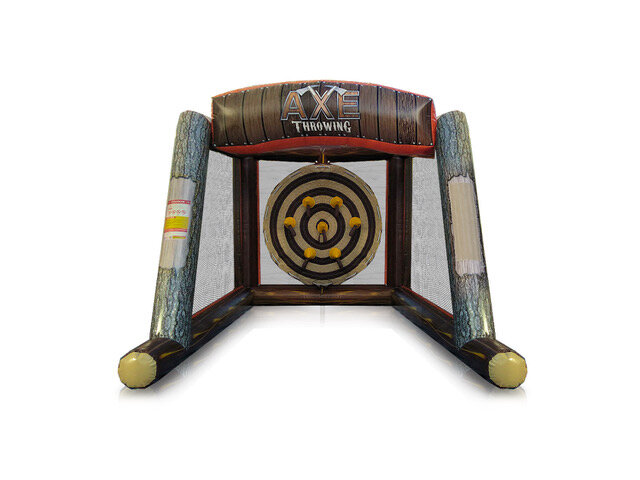 Axe throwing
Actual Size: 8L x 10W x 9H




Introducing our exciting new game, Inflatable Axe Throwing! Get ready for a thrilling experience that combines skill, competition, and a whole lot of fun.
Our Inflatable Axe Throwing game is perfect for parties, events, team-building activities, or just a fun day out with friends and family. It brings the popular sport of axe throwing to a safe and inflatable environment, making it accessible to everyone, regardless of age or skill level.
The game features a large inflatable target with various scoring zones, just like a traditional axe throwing target. Participants take turns throwing foam axes at the target, aiming to hit the bullseye and score the most points. With its vibrant colors and eye-catching design, our Inflatable Axe Throwing game adds an exciting visual element to any event.
Safety is our top priority, which is why our foam axes are designed to be lightweight and harmless, ensuring a worry-free experience for all participants. The inflatable target provides a soft landing for the axes, eliminating any risks associated with traditional axe throwing.
Inflatable Axe Throwing is not only a great source of entertainment, but it also promotes friendly competition and helps improve hand-eye coordination and focus. It's a fantastic way to engage and entertain guests, creating lasting memories and laughter.
So, why wait? Bring the excitement of axe throwing to your next event with our Inflatable Axe Throwing game. Get ready to unleash your inner lumberjack and experience the thrill of hitting the bullseye!