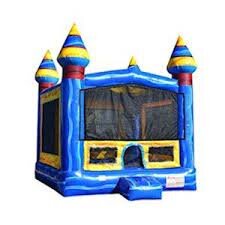 Blue Artic Bounce House (W/Basketball hoop)
Introducing the Blue Arctic Bounce House, the ultimate inflatable fun for kids of all ages! This vibrant and exciting bounce house will bring endless joy and entertainment to any party or event.
Designed with safety and durability in mind, the Blue Arctic Bounce House is made from high-quality materials that are built to withstand hours of energetic play. The sturdy construction ensures that kids can jump, bounce, and slide to their heart's content without any worries.
Featuring a spacious jumping area, this bounce house provides plenty of room for kids to jump and soar. The vibrant blue color adds a touch of excitement and sets the stage for a thrilling adventure. Including a basket-ball hoop inside for even more fun!
Not only is the Blue Arctic Bounce House a blast to play in, but it also promotes physical activity and helps children develop their motor skills.
Whether you're hosting a birthday party, a school event, or a neighborhood gathering, the Blue Arctic Bounce House is guaranteed to be a hit. It will create unforgettable memories and provide hours of laughter and fun for everyone.
Don't miss out on the excitement! Get the Blue Arctic Bounce House today and let the adventure begin!