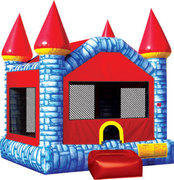 Blue Camelot
Best for ages 2+ and Up |1 Outlet Needed
Size 15 x 15 x15





$210.00

Please call to reserve this item

Introducing the Blue Camelot Bounce House, a magical and exciting addition to any party or event! This vibrant and eye-catching inflatable is perfect for children of all ages, providing hours of endless fun and entertainment.
Crafted with utmost attention to detail, the Blue Camelot Bounce House features a stunning blue and silver color scheme, reminiscent of a majestic castle in a fairy tale. Its enchanting design will transport children into a world of imagination and adventure.
Constructed with durable and high-quality materials, this bounce house ensures a safe and secure play environment. It is equipped with reinforced stitching and sturdy anchor points to withstand energetic bouncing and jumping. Safety netting surrounds the entire structure, allowing parents and guardians to supervise their little ones while they enjoy the excitement.
The Blue Camelot Bounce House offers a spacious jumping area, providing ample room for multiple children to play together. Whether it's a birthday party, family gathering, or community event, this bounce house will keep the little ones entertained for hours on end.
Make your next event a memorable one with the Blue Camelot Bounce House. Let the children's laughter and joy fill the air as they bounce and play in this magical inflatable castle. Don't miss out on this opportunity to create a truly enchanting experience for your little ones!