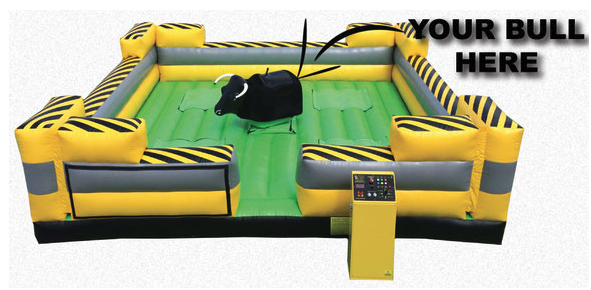 Mechanical Bull




$1,000.00

Please call to reserve this item

Introducing our exhilarating Mechanical Bull! Get ready for an adrenaline-pumping experience that will leave you wanting more. Perfect for parties, events, or just a fun day out, our Mechanical Bull is designed to provide hours of entertainment for both riders and spectators.
Built with safety in mind, our Mechanical Bull features a soft inflatable landing pad and adjustable speed settings, allowing riders of all ages and skill levels to enjoy the ride. Whether you're a seasoned cowboy or a first-time rider, our trained operators will ensure a safe and enjoyable experience for everyone.
The realistic bull design, complete with horns and a bucking motion, adds to the excitement and challenge of taming the beast. Feel the rush of adrenaline as you try to hold on for as long as possible, testing your balance, strength, and determination.
Not only is our Mechanical Bull a thrilling attraction, but it also serves as a great centerpiece for any event. With its eye-catching design and interactive nature, it will surely draw a crowd and create lasting memories for your guests.
So, saddle up and get ready for the ride of a lifetime with our top-of-the-line Mechanical Bull. Book now and let the excitement begin!
*REQUIRES 2 ATTENDANTS*