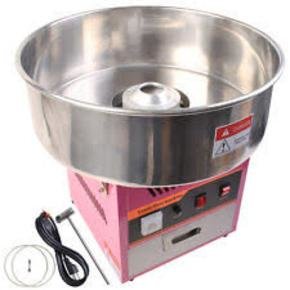 Cotton Candy Machine
Introducing our state-of-the-art Cotton Candy Machine, the perfect addition to any event or gathering!
With this easy-to-use machine, you can bring the sweet and fluffy delight of cotton candy to your guests in no time. Whether you're hosting a birthday party, carnival, or even a wedding, our Cotton Candy Machine is sure to be a hit.
Featuring a powerful motor and a durable stainless steel construction, this machine is designed to withstand heavy use and deliver consistent results every time. Its compact size makes it easy to transport and set up, so you can bring the fun wherever you go.
Operating the Cotton Candy Machine is a breeze. Simply pour in your favorite flavored sugar, turn on the machine, and watch as it spins and twirls the sugar into a cloud of delectable cotton candy.
Not only does our Cotton Candy Machine create delicious treats, but it also adds a touch of whimsy and nostalgia to any event. The vibrant colors and sweet aroma will instantly transport your guests back to their childhood, creating a memorable experience for everyone.
Cleanup is quick and hassle-free, thanks to the removable parts and dishwasher-safe components. The machine's sleek design also makes it a stylish addition to any kitchen or concession stand.So why wait? Bring the joy and excitement of cotton candy to your next event with our top-of-the-line Cotton Candy Machine. Order yours today and start spinning sweet memories!
*supplies must be purchased separately*