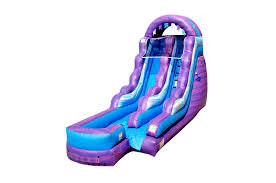 15ft Cotton Candy Slide
Introducing the 15ft Cotton Candy Slide, a delightful addition to any event or party! This vibrant and eye-catching slide will surely attract kids and adults alike, creating a memorable experience for everyone.
Crafted with utmost attention to detail, our 15ft Cotton Candy Slide features a whimsical design that resembles a giant cotton candy cone. The colorful and soft slide surface replicates the fluffy texture of cotton candy, adding an extra layer of excitement to the adventure.
Safety is our top priority, which is why this slide is constructed with high-quality materials and meets all safety standards. The sturdy base ensures stability, while the tall side walls provide a secure sliding experience. Parents can have peace of mind knowing that their little ones can enjoy endless hours of fun in a safe environment.
Whether it's a birthday party, a carnival, or a community event, the 15ft Cotton Candy Slide is guaranteed to be the star attraction. Watch as kids climb up the ladder, slide down the sweet slopes, and giggle with joy. This slide is not only a source of entertainment but also a visual delight that adds a touch of whimsy to any setting.
Don't miss out on the opportunity to create unforgettable memories with the 15ft Cotton Candy Slide. Order yours today and let the sugary adventure begin!
*THIS SLIDE COMES EQUIPPED WITH A BUMPER ATTACHMENT*