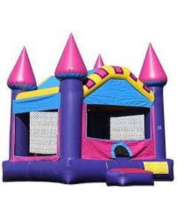 Dream Castle Bounce House
Actual Size: 13 X 13 x 16
Outlets: 1
Attendants: 1




Introducing the Dream Castle Bounce House, the ultimate inflatable playtime experience for kids! This enchanting bounce house will transport children into a world of imagination and adventure.
Designed with vibrant colors and intricate details, the Dream Castle Bounce House is perfect for birthdays, parties, or any occasion that calls for endless fun. Its spacious interior provides ample room for kids to jump, bounce, and play to their heart's content.
Crafted with safety in mind, this bounce house is made from durable, puncture-resistant materials that ensure long-lasting enjoyment. The reinforced stitching and sturdy construction guarantee a secure and stable play environment for children.
Equipped with safety netting on all sides, parents can have peace of mind knowing that their little ones are protected while they play. The Dream Castle Bounce House also features a convenient entrance ramp, making it easy for kids to enter and exit safely.
Not only does the Dream Castle Bounce House provide hours of entertainment, but it also promotes physical activity and social interaction among children. It encourages active play, helping kids develop their motor skills, balance, and coordination.
Let your child's imagination soar with the Dream Castle Bounce House. Create unforgettable memories and make every celebration a truly magical experience. Order yours today and let the bouncing adventures begin!