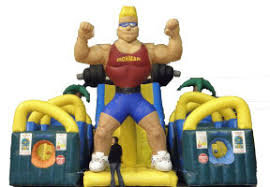 Iron Man obstacle Challenge
Actual Size: 22L x 30W x 40H
Outlets: 3




Introducing our thrilling Three Piece Iron Man Obstacle Course! Get ready to conquer the ultimate challenge and unleash your inner superhero!This inflatable obstacle course is designed with the iconic Iron Man theme, bringing the excitement of the Iron Man Challenge to life. Consisting of three separate sections, this course offers a variety of obstacles that will test your agility, speed, and determination.
The first section features a series of inflatable walls, requiring you to navigate through tight spaces and push your limits. As you progress, you'll encounter the second section, which includes a series of inflatable pillars to dodge and maneuver around. This section will test your reflexes and quick thinking.
Finally, the third section is the grand finale – a thrilling slide that will send you soaring through the air. Feel the rush of adrenaline as you slide down, experiencing the exhilaration of victory.
Crafted with high-quality materials, this inflatable obstacle course guarantees safety and durability. It is designed to withstand heavy use and is suitable for both indoor and outdoor events. The vibrant colors and attention to detail make it visually appealing and captivating for participants of all ages.
Perfect for birthday parties, corporate events, school functions, and more, the Three Piece Iron Man Inflatable Obstacle Course is sure to be the highlight of any gathering. It promotes friendly competition, teamwork, and a sense of accomplishment as participants overcome each obstacle.So, whether you're a fan of Iron Man or simply looking for an exciting and engaging activity, don't miss out on the opportunity to experience this incredible inflatable obstacle course. Get ready to channel your inner superhero and conquer the challenge like never before!