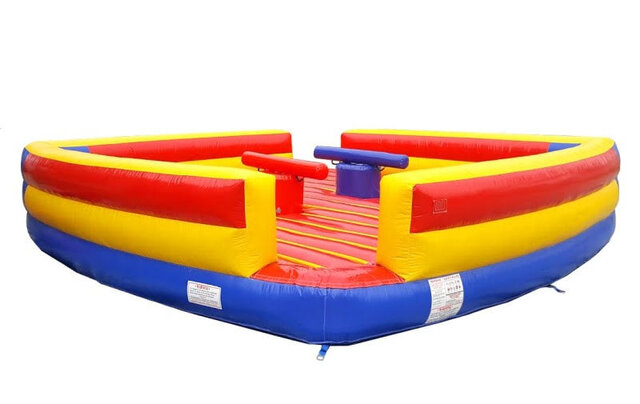 Jousting
Actual Size: 24L x 24W x 12H




Introducing our exciting Two Person Jousting Inflatable - the ultimate fun-filled challenge for friends and family! This inflatable game will transport you back to the medieval times, where you can engage in thrilling jousting battles right in your own backyard.
Crafted with top-quality materials, our Two Person Jousting Inflatable is designed to provide a safe and enjoyable experience for all participants. The inflatable structure is sturdy and durable, ensuring hours of endless entertainment. It features two padded jousting poles and a spacious platform for two players to stand on, ready to face each other in an epic battle.
The objective is simple - knock your opponent off the platform using your jousting pole while maintaining your own balance. The soft and cushioned landing area ensures a comfortable fall, making it a safe and enjoyable experience for everyone involved.
Perfect for parties, events, or simply a fun day out in the sun, our Two Person Jousting Inflatable will keep participants engaged and entertained for hours. It encourages friendly competition, teamwork, and physical activity, making it suitable for both children and adults.
Setting up the inflatable is a breeze, thanks to its compact size and easy-to-use electric air pump. Within minutes, you can have the jousting arena inflated and ready for action. When not in use, it can be deflated and conveniently stored away, taking up minimal space.
So, gather your friends and family and get ready for an unforgettable jousting experience with our Two Person Jousting Inflatable. It's the perfect addition to any gathering, ensuring laughter, excitement, and memories that will last a lifetime.