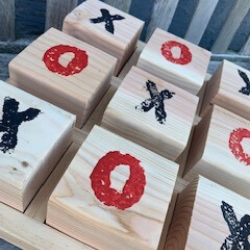 Tic Tac Toe
Introducing our Large Tic Tac Toe game, the perfect addition to your family game night or outdoor gatherings. This classic game is a timeless favorite that never fails to entertain both kids and adults alike.
Crafted with durable materials, our Large Tic Tac Toe game is built to last, ensuring countless hours of fun and friendly competition. The set includes a large wooden board and 10 X and O game pieces, making it easy for players of all ages to grasp the rules and start playing right away.
With its eye-catching design and oversized dimensions, our Large Tic Tac Toe game is sure to be the focal point of any gathering. Whether you're playing in your backyard, at the beach, or even indoors, this game is versatile enough to be enjoyed anywhere.
Not only is our Large Tic Tac Toe game a great source of entertainment, but it also promotes critical thinking and strategic planning skills. Players must carefully strategize their moves to outsmart their opponents and claim victory. It's a fantastic way to sharpen the mind while having a blast.
Compact and lightweight, our Large Tic Tac Toe game is easy to transport and store, making it ideal for family vacations, picnics, and camping trips. It's a must-have for any game enthusiast who loves to bring the fun wherever they go.
So why wait? Bring the excitement of this timeless game into your life with our Large Tic Tac Toe set. Order now and get ready to create unforgettable memories with friends and family.