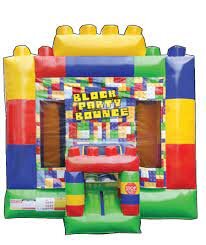 Lego Block Party Bounce house
Actual Size: 15x15x18
Setup Area: 18x18




Introducing the Lego Block Party Bounce House - the ultimate inflatable playtime experience for your little ones!
Designed to spark creativity and endless fun, this vibrant bounce house features a colorful Lego-inspired theme that will captivate imaginations. With its spacious interior, children can jump, bounce, and explore to their heart's content, all while enjoying the thrill of bouncing on a soft and safe surface.
Crafted with premium materials, the Lego Block Party Bounce House ensures durability and long-lasting performance. It is equipped with reinforced stitching and sturdy anchor points, guaranteeing stability and safety during playtime. The high walls provide a secure environment, preventing accidental falls and keeping children protected at all times.
This bounce house is not just about bouncing - it also features a variety of interactive elements that will keep children entertained for hours. The Lego-themed obstacles and tunnels encourage physical activity and imaginative play, promoting social interaction and teamwork among kids. Whether they're pretending to be master builders or engaging in friendly competition, the possibilities for fun are endless.
Safety is our top priority, which is why the Lego Block Party Bounce House is made with non-toxic materials and meets all safety standards. Parents can have peace of mind knowing that their children are playing in a secure and healthy environment.
Ideal for birthday parties, playdates, or simply a day of fun, the Lego Block Party Bounce House is a must-have addition to any backyard or indoor play area. Let your kids' creativity soar as they jump, bounce, and build unforgettable memories with this exciting inflatable play structure.
Unlock the world of imagination and adventure with the Lego Block Party Bounce House - where fun and creativity collide!