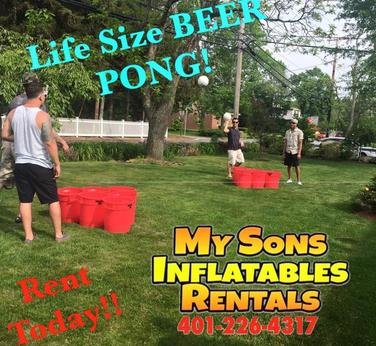 Life Size Beer Pong
Introducing Life Size Beer Pong, the ultimate party game that takes the classic beer pong experience to a whole new level!
Get ready to bring the excitement of this popular drinking game to your backyard, beach, or any outdoor gathering. Life Size Beer Pong is designed for players of all skill levels, making it the perfect addition to any party or social event.
This game includes everything you need to start playing right away. The set includes oversized cups and two giant ping pong balls, ensuring a larger-than-life experience that will have everyone laughing and cheering.
Setting up the game is a breeze. Simply arrange the cups in a triangle formation on each end of a long table or any flat surface. Then, take turns throwing the giant ping pong balls into the opposing team's cups. If a ball lands in one of the cups, they remove that cup from play. The first team to eliminate all of the opposing teams cups wins! You can play this as a drinking game or purely just for fun to shoot around! Great for both kids and adults!
Life Size Beer Pong is not only a great way to have fun and socialize, but it also helps to enhance hand-eye coordination and improve your throwing skills. Whether you're a beer pong pro or a beginner, this game is guaranteed to provide hours of entertainment for you and your friends.
Made from durable materials, this game set is built to last and withstand countless rounds of play. The oversized cups are easy to clean and can be reused for future games, making it a cost-effective investment for any party enthusiast.
So, why settle for a regular game of beer pong when you can take it to the next level with Life Size Beer Pong? Get ready to create unforgettable memories and make your next gathering the talk of the town. Order your set today and let the fun begin!