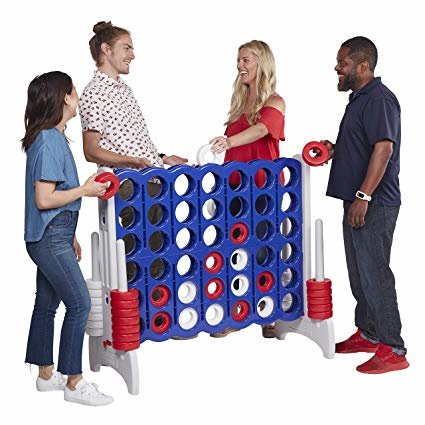 Life Size Connect Four
Introducing the Life Size Connect Four - the ultimate game of strategy and skill! This giant version of the classic Connect Four game is perfect for outdoor gatherings, parties, and events.
Standing at an impressive height, the Life Size Connect Four will captivate players of all ages. Crafted from durable materials, this game is built to withstand countless hours of intense gameplay. The oversized plastic frame and vibrant colored discs make it easy to see and play from a distance.
Challenge your opponents to a thrilling match as you strategically drop your colored discs into the slots, aiming to connect four in a row horizontally, vertically, or diagonally. With its massive size, this game adds an exciting twist to the traditional Connect Four experience, requiring players to think strategically and plan their moves carefully.
Not only is the Life Size Connect Four a thrilling game, but it also promotes social interaction and friendly competition. Whether you're hosting a backyard barbecue, a corporate team-building event, or a school carnival, this game is sure to be a hit with everyone.
Easy to set up and transport, the Life Size Connect Four is perfect for both indoor and outdoor use. The lightweight design allows for effortless assembly and disassembly, making it convenient to take to various locations.
Don't miss out on the fun and excitement that the Life Size Connect Four brings. Get ready to engage in epic battles and create unforgettable memories with family, friends, and colleagues. Order your Life Size Connect Four today and elevate your gaming experience to new heights!