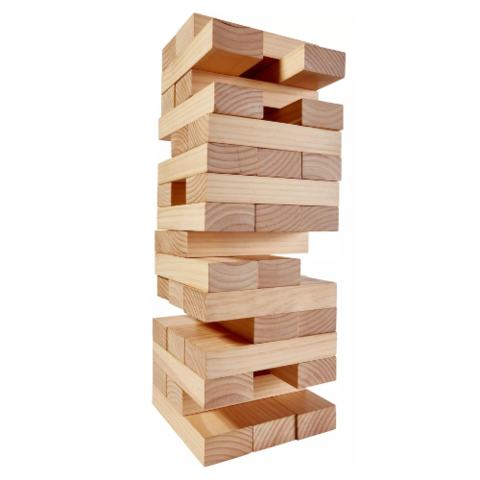 Life Size Jenga
Introducing the 60 Piece Life Size Jenga - the ultimate game of skill, strategy, and suspense! This larger-than-life version of the classic Jenga game is designed to bring hours of fun and excitement to any gathering or event.
Crafted from high-quality, durable wood, each block is precision cut to ensure a perfect fit and smooth gameplay. The 60 blocks stack up to an impressive height, reaching up to 5 feet tall when fully assembled. Whether you're hosting a backyard BBQ, a family game night, or a team building activity, this Life Size Jenga is guaranteed to be a crowd-pleaser.
Playing the Life Size Jenga is simple yet challenging. Players take turns carefully removing one block at a time from the tower and then stack it on top. As the tower grows taller and more unstable, the suspense builds. The player who causes the tower to collapse loses the game, making for some truly nail-biting moments!
This game is suitable for players of all ages, from kids to adults, making it a versatile addition to any game collection. It promotes critical thinking, problem-solving skills, and hand-eye coordination, all while providing endless entertainment.
The 60 Piece Life Size Jenga is conveniently portable, allowing you to easily bring it to parties, picnics, or camping trips. The blocks come with a sturdy storage bag, making clean-up and transportation a breeze.
So gather your friends, family, or colleagues and get ready for a thrilling game of Life Size Jenga. It's time to test your steady hand and strategic thinking in this larger-than-life version of the beloved classic. Order your 60 Piece Life Size Jenga today and create unforgettable memories with this timeless game!