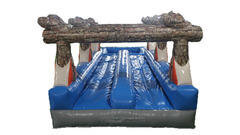 Log Slip n Slide
Best for ages 6+ and Up |1 Outlet Needed
Size 32 x 10 x 10
Actual Size: 32L x 10W x 10H




Introducing the Two Lane Log Slip N Slide - the ultimate summer water activity that guarantees endless hours of fun for kids and adults alike!
Constructed with high-quality, durable materials, this slip n slide is designed to withstand the wildest adventures and provide a smooth and exhilarating ride. The unique two-lane design allows for friendly competitions and exciting races, adding an extra level of excitement to your backyard parties or summer gatherings.
Measuring an impressive length of 32 feet, the Two Lane Log Slip N Slide offers an extended sliding surface that ensures maximum enjoyment. The surface is made from a special, ultra-slick material that creates the perfect amount of slipperiness, allowing you to glide effortlessly from start to finish.
Safety is a top priority, and the Two Lane Log Slip N Slide has got you covered. The sides of the slide are designed with high walls to keep sliders safely on track. Additionally, the slide features sturdy anchor points to secure it firmly to the ground, preventing any unwanted movement during use.Whether you're hosting a summer party, a family gathering, or simply looking to beat the heat, the Two Lane Log Slip N Slide is the perfect addition to your outdoor activities. Get ready for hours of laughter, splashes, and unforgettable memories with this exciting and entertaining water slide. So grab your swimsuit, invite your friends, and get ready to slip, slide, and splash your way to summer fun with the Two Lane Log Slip N Slide!
*THIS SLIDE COMES EQUIPPED WITH A POOL ATTACHMENT*