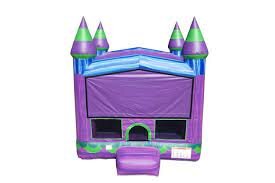 Mermaid Bounce house
Introducing the enchanting Mermaid Bounce House, where imagination and fun come to life! Dive into a world of underwater adventure with this captivating inflatable play structure.
Designed with vibrant colors and intricate details, our Mermaid Bounce House is perfect for children who love all things mermaid. The exterior features a stunning mermaid tail and shimmering scales, creating a visually stunning centerpiece for any event.
Inside, kids will discover a spacious jumping area that allows them to bounce and leap like graceful mermaids. The high walls ensure their safety while they enjoy hours of active play. The bounce house is also equipped with mesh windows, allowing parents and guardians to keep a watchful eye on the little ones.
Crafted from durable and high-quality materials, our Mermaid Bounce House is built to withstand endless hours of bouncing and excitement. It is also easy to set up and take down, making it convenient for any occasion, from birthday parties to community events.
Whether you're hosting a mermaid-themed party or simply want to add a touch of magic to your event, the Mermaid Bounce House is the perfect choice. Let your child's imagination soar as they embark on an unforgettable adventure under the sea.
Make a splash at your next gathering with the Mermaid Bounce House. Order now and let the mermaid magic begin!