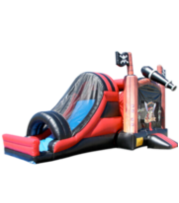 Pirate Combo
Ahoy there matey! Welcome aboard the Pirate Combo Bounce House, where swashbuckling adventures await! This inflatable wonderland is perfect for little buccaneers who want to bounce, slide, and play all day long.
Measuring 30 feet in length, 15 feet in width, and 16 feet in height, this Pirate Combo Bounce House is spacious enough to accommodate multiple young pirates at once. Its vibrant colors and detailed pirate-themed artwork will transport kids to a world of treasure maps, hidden caves, and fearless pirates sailing the high seas.
The bounce house features a large jumping area where kids can bounce to their heart's content, letting their imaginations run wild. They can then climb up the ladder to the top of the slide and whoosh down to the bottom, feeling the rush of excitement as they make their daring escape.
Safety is our top priority, which is why this Pirate Combo Bounce House is designed with high-quality materials and reinforced stitching. It also has safety netting on all sides to ensure that kids can play without any worries. Additionally, the bounce house is equipped with sturdy anchor points and safety straps to keep it securely in place.
Perfect for birthdays, parties, or any occasion that calls for some swashbuckling fun, the Pirate Combo Bounce House will be the highlight of any event. It's easy to set up and take down, making it convenient for both indoor and outdoor use.
So, gather your crew and set sail for a day of adventure with the Pirate Combo Bounce House. With its exciting features and durable construction, it's sure to provide endless hours of entertainment for young pirates of all ages. Avast, ye landlubbers, and get ready for a bouncing good time!
*THIS SLIDE COMES EQUIPPED WITH A BUMPER ATTACHMENT*