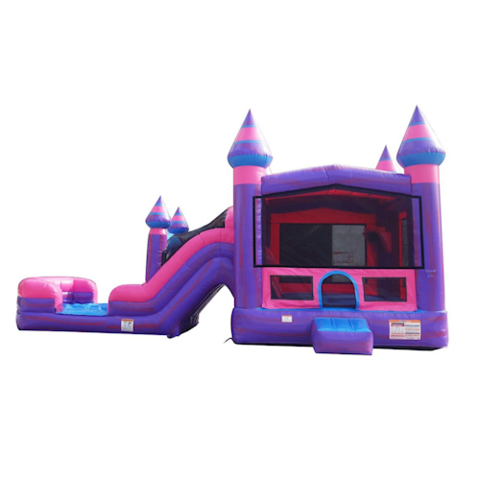 PurPlush Dual Lane Combo
Actual Size: 31' L x 13' W x 15' H




Introducing the PurPlush Dual Lane Combo, the ultimate inflatable play structure that will bring endless fun and excitement to any event or party! This incredible combo unit features not one, but two exhilarating lanes for double the action-packed adventure.
Designed with safety and durability in mind, the PurPlush Dual Lane Combo is made from high-quality materials that can withstand the rigors of active play. The sturdy construction ensures that kids can bounce, slide, and climb with confidence, providing hours of entertainment without any worries.
The dual lanes offer a variety of activities to keep children engaged and entertained. They can race against their friends on the parallel slides, experiencing the thrill of competition and the joy of victory. The slides are designed with a gentle slope and safety netting, ensuring a smooth and secure ride every time.
In addition to the slides, the PurPlush Dual Lane Combo also features a spacious bouncing area, allowing kids to jump and bounce to their heart's content. The soft and bouncy surface provides a comfortable and enjoyable experience, encouraging active play and physical exercise.
With its vibrant and eye-catching design, the PurPlush Dual Lane Combo will instantly attract attention and create a visually stunning centerpiece for any event. The bright colors and playful graphics will captivate children and create a festive atmosphere that everyone will love.
Whether you're hosting a birthday party, a school event, or a community gathering, the PurPlush Dual Lane Combo is the perfect addition to make your occasion unforgettable. It provides endless fun and excitement for children of all ages, promoting active play, social interaction, and imaginative adventures.
Don't miss out on the opportunity to create lasting memories and bring smiles to the faces of children with the PurPlush Dual Lane Combo. Get yours today and watch the magic unfold!
*THIS SLIDE COMES EQUIPPED WITH A POOL ATTACHMENT*