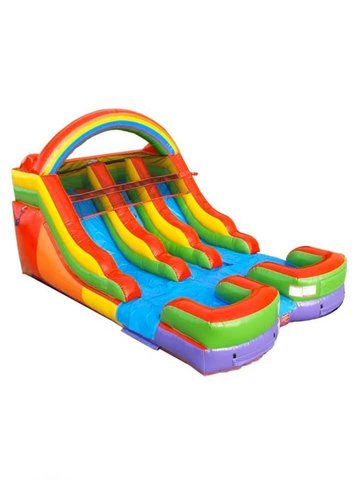 14ft Rainbow Dueling Lane Slide
Actual Size: 23L x 13.5W x 14H




Introducing the Rainbow Dueling Lane Water Slide, the ultimate summer attraction for thrill-seekers of all ages! Get ready for an adrenaline-pumping experience as you race your friends down this exhilarating dual-lane water slide.
Designed with vibrant colors and a rainbow theme, this water slide will instantly catch the attention of anyone looking for a fun-filled adventure. The dual lanes allow you to challenge your friends or family members to a thrilling race, adding an element of friendly competition to your summer gatherings.
Measuring 14 feet tall, this water slide is perfect for both small and large outdoor spaces. Its sturdy construction ensures durability, allowing you to enjoy endless hours of sliding fun without worry. The high-quality materials used in its manufacturing make it resistant to wear and tear, ensuring it will last for many summers to come.
Safety is our top priority, which is why the Rainbow Dueling Lane Water Slide features safety features such as a non-slip surface and sturdy handrails. These ensure that you can slide with confidence, knowing that you are well-supported throughout your thrilling descent.
Not only is the Rainbow Dueling Lane Water Slide a blast for individuals, but it also provides a fantastic opportunity for group play and social interaction. Whether it's a backyard party, a family gathering, or a community event, this water slide will be the highlight of the day, creating memories that will last a lifetime.
So why wait? Bring the excitement of a water park right to your own backyard with the Rainbow Dueling Lane Water Slide. Get ready to slide, splash, and race your way to summer fun like never before!
*THIS SLIDE COMES EQUIPPED WITH A BUMPER ATTACHMENT*