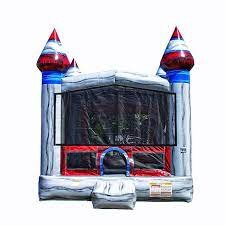 Titanium Steel Bounce House (W/Basketball hoop)
Introducing the Titanium Bounce House, the ultimate inflatable entertainment for kids of all ages! Engineered with premium-grade materials, this bounce house is built to withstand hours of energetic play and ensure maximum safety.

Featuring a spacious jumping area, kids can bounce, leap, and jump to their heart's content. The reinforced netting surrounding the bounce house ensures that children are securely contained while providing parents with peace of mind.
Safety is our top priority, which is why the Titanium Bounce House is equipped with reinforced stitching and sturdy anchor points to keep it securely in place. Additionally, the entrance ramp provides easy access for children to enter and exit the bounce house safely.
Whether it's a birthday party, family gathering, or community event, the Titanium Bounce House is sure to be the highlight of the day. Watch as children's faces light up with joy and laughter as they experience the thrill of bouncing and playing in this top-of-the-line inflatable.
Invest in the Titanium Bounce House today and create unforgettable memories for your little ones. Order now and let the bouncing fun begin!