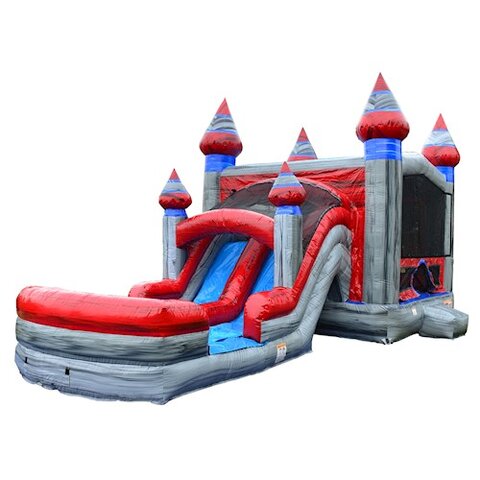 Titanium Dual Lane Combo
Actual Size: 31' L x 13' W x 15' H




Introducing the Titanium Dual Lane Combo, the ultimate inflatable play structure for endless fun and excitement! This top-of-the-line bounce house is perfect for any event or party, providing hours of entertainment for kids of all ages.
The Titanium Dual Lane Combo features not one, but two spacious bouncing areas, allowing double the fun and accommodating more children at once. With its vibrant colors and eye-catching design, this bounce house will instantly grab the attention of little ones and create a buzz of excitement.
Made from high-quality, durable materials, the Titanium Dual Lane Combo Bounce House is built to last. Its reinforced stitching and commercial-grade vinyl ensure that it can withstand hours of jumping, bouncing, and sliding without any wear or tear. Safety is also a top priority, as the bounce house is equipped with safety netting and secure anchor points to keep children secure and prevent any accidents.
But the fun doesn't stop at bouncing! This combo bounce house also includes an exciting slide, adding an extra element of adventure to the playtime. Kids can climb up the ladder, zip down the slide, and experience a thrilling ride that will leave them wanting more.
Whether you're hosting a birthday party, a school event, or a backyard gathering, the Titanium Dual Lane Combo Bounce House is the perfect addition to take the fun to the next level. Let your kids' imaginations run wild as they bounce, slide, and create unforgettable memories with their friends. Don't miss out on the ultimate inflatable experience – get the Titanium Dual Lane Combo Bounce House today!
*THIS SLIDE COMES EQUIPPED WITH A POOL ATTACHMENT*