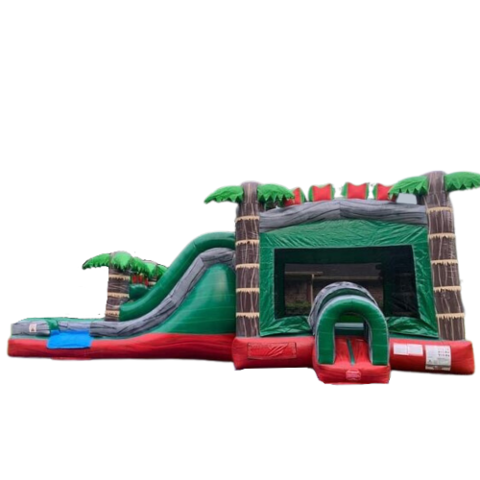 Tropical Combo
Introducing our Tropical Combo Bounce House, the ultimate addition to any party or event! This vibrant and exciting inflatable is perfect for kids and adults alike, providing endless hours of bouncing fun.
Featuring a tropical theme, this bounce house is adorned with colorful palm trees and a forrest like green color. It instantly transports you to a sunny paradise, creating a festive atmosphere that will captivate your guests.
But the fun doesn't stop there! Our Tropical Combo Bounce House offers more than just bouncing. It also includes a thrilling slide that adds an extra element of excitement. Kids can climb up the ladder, slide down, and experience the exhilaration of a mini water park right in their own backyard.
Safety is our top priority, which is why our bounce house is constructed with high-quality materials and meets all safety standards. The sturdy design ensures stability, while the mesh walls provide visibility and ventilation. Parents can relax and enjoy peace of mind, knowing that their children are having a blast in a safe and secure environment.
Whether it's a birthday celebration, a neighborhood gathering, or a corporate event, the Tropical Combo Bounce House is guaranteed to be a hit. It offers endless entertainment, promotes active play, and brings people together in a fun and exciting way.
So why wait? Book our Tropical Combo Bounce House today and get ready to take your event to the next level. Let the laughter, joy, and adventure begin!
*THIS SLIDE COMES EQUIPPED WITH A POOL ATTACHMENT*