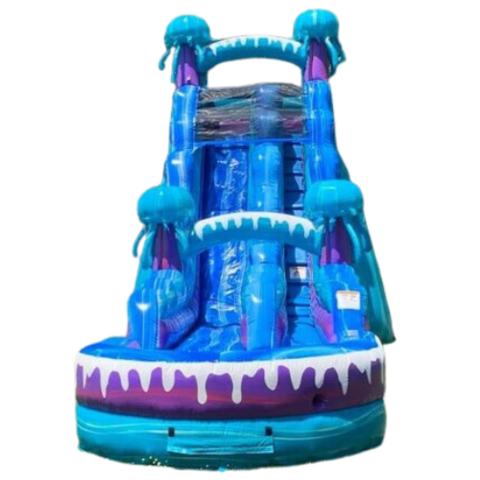 19ft Under The Sea
Actual Size: 39L x 13W x 20H
Setup Area: 39L x 13W x 20H




Introducing our thrilling 19ft Under the Sea Waterslide! Dive into a world of aquatic adventure with this exhilarating inflatable slide that guarantees endless fun for all ages.
Designed with vibrant colors and stunning underwater-themed graphics, our waterslide brings the magic of the ocean right to your backyard. As you climb to the top, you'll be surrounded and sliding with the jelly-fish, creating an immersive experience like no other.
Once at the summit, get ready for an adrenaline-pumping ride! With a steep incline and a smooth sliding surface, you'll zoom down the slide, feeling the rush of the cool water beneath you. As you splash into the pool at the bottom, the excitement continues, making every slide a memorable experience.
Safety is our top priority, and our 19ft Under the Sea Waterslide is built with sturdy materials and reinforced seams to ensure durability and stability. The slide also features high sidewalls and safety netting to keep riders secure and protected throughout their aquatic journey.
Perfect for birthday parties, family gatherings, or any summer celebration, this waterslide will be the highlight of your event. Watch as kids and adults alike line up for their turn, eager to experience the thrills and laughter that this incredible waterslide provides.
Setting up the 19ft Under the Sea Waterslide is a breeze, thanks to its quick and easy inflation system. Within minutes, you'll have a full-sized water attraction ready to entertain your guests. When the fun is over, the slide deflates just as effortlessly, allowing for convenient storage until your next aquatic adventure.
Don't miss out on the opportunity to create unforgettable memories with our 19ft Under the Sea Waterslide. Dive into the excitement today and bring the wonders of the ocean to your backyard!
*THIS SLIDE COMES EQUIPPED WITH A POOL ATTACHMENT*