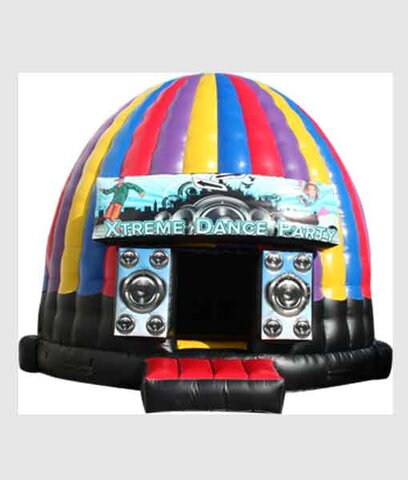 Xtreme Dance Dome Bounce house
Actual Size: 20 × 24 × 18 ft
Setup Area: 25x25




Introducing the Xtreme Dance Dome Bounce House, the ultimate inflatable party attraction that will take your event to new heights of fun and excitement!
Designed with a vibrant and eye-catching color scheme, this bounce house is perfect for kids and adults alike who love to dance and bounce to their heart's content. With its spacious interior, the Xtreme Dance Dome provides ample room for energetic movements and groovy dance moves. It comes equipped with interior lighting and a bluetooth speaker to enjoy some fun music while dancing and bouncing around!
Crafted from durable and high-quality materials, this bounce house ensures a safe and enjoyable experience for all participants. The reinforced stitching and commercial-grade vinyl construction guarantee long-lasting durability, allowing you to enjoy countless dance parties for years to come.
Equipped with safety features such as mesh windows for ventilation and easy monitoring, parents can have peace of mind while their little ones have a blast inside the Xtreme Dance Dome. Additionally, the inflatable entrance ramp makes it easy for everyone to enter and exit the bounce house safely.
So, get ready to turn up the music, put on your dancing shoes, and bounce to the beat with the Xtreme Dance Dome Bounce House. It's time to bring the party to a whole new level of excitement and fun!