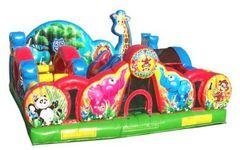 Zoo Commander
Best for ages 2+ and Up |1 Outlet Needed
Size 18 x 18 x12

Introducing the Zoo Commander, the ultimate inflatable playtime experience for children! This vibrant and captivating bounce house is designed to bring joy and excitement to any event or party, showcasing Elephants, Giraffes, Lions, Pandas and more!
The Zoo Commander Combo Bounce House features a spacious jumping area where kids can bounce, jump, and play to their heart's content. With its durable and high-quality construction, this bounce house ensures a safe and secure play environment for children of all ages.
But that's not all - this combo bounce house also includes additional features that will take the fun to the next level. Kids will have a blast sliding down the attached slide inside, adding an extra element of thrill and adventure to their playtime. The slide is designed with safety in mind, providing a gentle and controlled descent for kids to enjoy.
With its vibrant and eye-catching zoo-themed design, the Zoo Commander Combo Bounce House will capture the imagination of children and transport them to a world of wild animals and exciting adventures. Whether it's a birthday party, a family gathering, or a community event, this bounce house will be the center of attention and provide hours of endless fun.
Safety is our top priority, and the Zoo Commander Combo Bounce House meets all industry standards and regulations. It is constructed with durable materials that can withstand hours of playtime, ensuring a long-lasting investment that will bring joy to countless children.
So why wait? Bring the excitement of the zoo to your next event with the Zoo Commander Combo Bounce House. Watch as children's faces light up with joy and laughter as they bounce, slide, and play in this incredible inflatable playtime paradise. Order yours today and create unforgettable memories for children of all ages!