Concession Machine Rentals Rhode Island
Concession machine rentals are the way to provide a special treat to take your party or event over the top. We offer concession machine rentals like Cotton Candy Machines, Popcorn Machines, and Snow Cone Machines. The concession machine rentals from My Sons Inflatables are perfect for all ages from pre-school through adults. And they will all line up for some of the tasty treat at your party. These machines are versatile, easy to use and are quick to add to just about any type of event all seasons long and offer a great treat for just about any type of party. Any concession rental excites guests when they smell and see these fair treats at a home or park party rental. Just don't forget some
tents, tables and chairs
to go along with those tasty treats to give your guests a place to sit and eat.
These concession machine rentals are a great way to have something to eat at your party without having to plan for a large meal making any of them a great choice and reduce the stress of additional planning.
Be that party planner who offers a variety of salty or sugary tasty treats for your guests as they arrive. There is nothing better than the kids getting to enjoy a refreshing snow cone with their favorite flavor along with one of our water slide rentals on a hot day. Some savory, buttery popcorn for the adults are the perfect treat as they watch the kids play on our inflatables. Either way, we have something for everyone even like our sugar cotton candy. Choose from a variety of flavors for the cotton candy or snow cones to make your give your guests the choice of their favorite.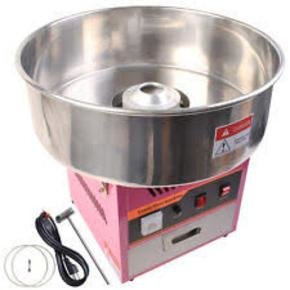 Cotton Candy Machine Rentals
Cotton candy is a favorite snack at carnivals, fairs and now even in your own back yard. Our cotton candy machine is great for parties and events of all sizes. The smell of cotton candy will have everyone lining up for a taste of this sweet treat. Our machine is easy to use and creates the same snack you find at fairs, ball games and concerts.

Cotton Candy Machine Rentals are a fun way to really incorporate smiles and the feel of a fair or festival with renting the cotton candy concession machine rental to your party or event rental. cotton candy concession rentals are one of those great items to give as a favor to guests while they or leaving or to create a party or event that seems grander. The smell of cotton candy in the air and the kids & adults walking around snacking on this ever so sweet melt-in-your-mouth treat just symbolizes party treats, laughter, and fun!

Note: Don't forget to add supplies to your order for the number of guests you plan on serving. Our supply kits include the flavored sugar you will need and also includes paper cones to hold the sweet treat.
Book Now!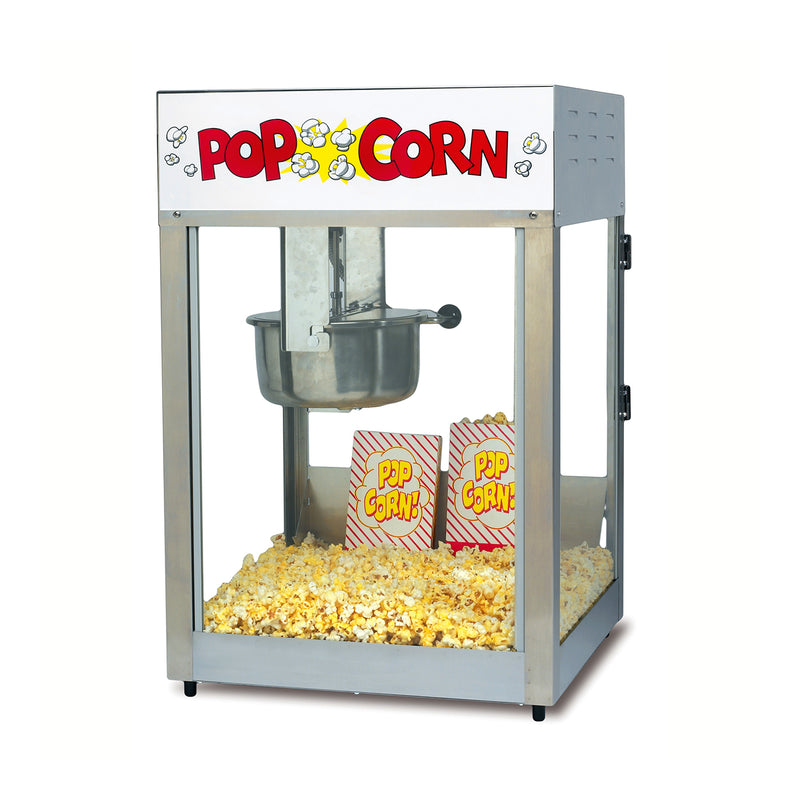 Popcorn Machine Rentals in RI
Just smelling that popcorn takes you to a moment where you think of movies, fairs, festivals and suddenly a smile pops onto your face. You know from that smell that you are definitely arriving at a grand party whether you start the popcorn machine to cook the popcorn before, during, or at the end of the event you will be surprised to see how quickly the line forms with small kids, to big kids waiting for their bag of popcorn.

Our popcorn machine is the perfect addition to any party, but are also great for creating a fun snack any day. Make popcorn for teachers to thank them for the help and support they give your children. Pop some corn at the office to give your staff a surprise for the hard work they've put in. Stop by the fire department and create a truly unexpected snack for first responders. Any day can be a special day with some popcorn.

Note: Don't forget to add supplies to your order for the number of guests you plan on serving. Our kits include everything you need to create popcorn and even includes popcorn bags.
Book Now!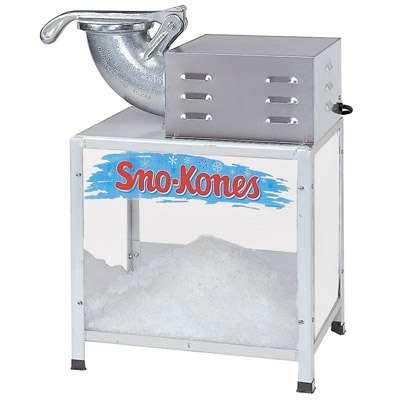 Snow Cone Machine Rentals
Snow Cone Machine rentals are one of the easiest concession rentals to use as they are easy enough for just about anyone to use and create a delicious treat. You can also flavor them with your guests choice of awesome flavoring to make it just right for them.

All you need to do is add ice from the freezer or pick up a bag of ice from a local store and you can use this machine to make a special treat for everyone.

Note: Don't forget to add supplies to your order for the number of guests you plan on serving. Our supply kits include the syrup and cones you will need.
Book Now!
Clean Concession Machines
As parents ourselves, we understand the stress of planning a party combined with the concern for having safe things for our children to enjoy with their friends.
While we have always cleaned each one of our inflatables and other rental items between each delivery, with current concerns, we have added to our processes. We now clean each item after rentals
and
take an extra step to sanitize each item.
My Sons Inflatables is all about bringing fun to parties to make children smile. We are confident that our procedures allow us to do that and provide an even safer environment to do that than ever before. If we would not let our children use an item, we will not let your children use it either.
All of our rental items are also subjected to annual inspections to ensure their safety. My Sons Inflatables is also fully insured which is not the case with all rental companies.
We also make it easy for parents to reserve concession machines and other party items for their parties with our
online reservation system.
Browse our inventory, reserve your items and get ready to have fun.
Why Choose Us for Interactive Game Rentals in RI?
We have been delivering fun to Rhode Island for years and our concession machines are always in high demand. They are perfect for backyard parties as well as school events, church festivals and corporate parties. Being a local leading provider for party rentals rentals in RI, we take great pride in being able to help people in our community host parties and events to create smiles and memories for others in our community.
There are a number of reasons our customers keep coming back for more and they talk about them in
the reviews they leave us.
We provide some of the absolute best customer service in all of Rhode Island. Rest easy knowing when you rent any inflatable or other party item from My Sons Inflatables, it will be commercial grade, high-quality inflatable with all of the latest features designed to keep participants safe. Our inventory is second to none with the latest and greatest of all the popular themes or designs so it never gets old. It doesn't matter the type of party because we are sure there is something to fit just what you need.
If you are not sure which one of our concession machine rentals is right for your party, we are just a phone call away. Reach out to us and one of our friendly staff members will help you choose the right items for your party location, the size of your party and age group of kids.
We are a locally owned and operated company in the Providence, Rhode Island area. Our company is licensed and fully insured. When reserving an inflatable, concession machine or other rental item for your party or event, put your trust in My Sons Inflatable like thousands of other happy customers. If there is one thing certain, you can rest easy knowing our friendly office staff and delivery crews will handle everything. We strive to take the stress of planning a party away as much as possible so you can focus on having a fun time at your party. All you need to do is give us your party details and let us handle the rest. It's that easy!
All our equipment is inspected, sanitized and cleaned after each rental for your children's safety. We take great pride in providing high-quality rental items in Rhode Island for your parties or events. All of our inflatables and other rental units are thoroughly inspected and in tip-top shape ready to go for your event. Many of us are parents too and if we wouldn't let our children use one of our rental items, we will not let your children. Our experienced staff also knows how to properly set up your rental items to keep them in place, again to protect your party guests. They will also show you how to use the rental items you choose so you won't have to stress about that either. Our customers love us for their parties because they know they can count us on to deliver on time, every time and have clean concession machines and exceptional customer service focused on safety. That is the My Sons promise!
Do You Deliver Concession Machines Near Me?
It has brought us great joy over the years delivering fun to kids all over with our RI bounce house with slide rentals. While many of our rentals are delivered to residences all around Rhode Island we also service many local schools, churches, businesses, and more. Our amazing team has done setup at local parks, churches, school events, and parties. If you decide to host your next event at your local park, please check out their rules and restrictions before booking with us. Looking for Rhode Island bounce house rentals? Well, you have come to the right place. My Sons Inflatables is a guaranteed hit! We have been providing fun party rentals for Rhode Island for years. We specialize in party rentals for events such as but not limited to backyard parties, school festivals, birthday parties, church carnivals, high schools and businesses. We deliver the fun to your location with
Bounce Houses
,
Combo Bounce House Rentals
,
Water Slides
,
Dunk Tanks
,
Interactives
,
Outdoor Movie Screens
,
Obstacle Courses
,
Entertainment and Generators
, and
Concessions
, like popcorn, cotton candy and snow cone machines. We even have rock walls and other extreme rides for extra excitement as well as photo booths to help capture the memories. To give your party another level of enjoyment, we also offer tent, table and chair rentals to give people a place to gather out of the elements for a while. Don't Forget to rent
Tables and Chairs
to seat all your guests, and
Tents
, to protect them from the sun.
Customers Who Rented Concession Machines in RI Also Rented: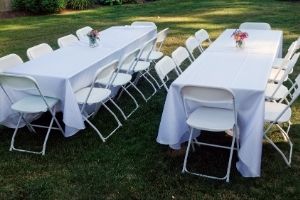 Tents, Tables and Chairs
We all need a spot to place our plates and sit down after bouncing around all day. You can really never have enough chairs once guests start coming in to play at your party!
Water Slides
Zipping down a water slide and splashing into a pool of water is the best way to beat the heat. Our selection of water slides are perfect for parties for kids of all ages.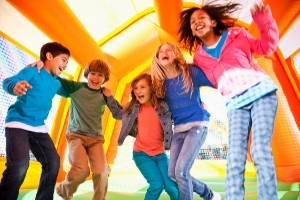 Bounce Houses
Everyone loves to bounce in our bounce houses. We have a large selection that kids love and there is one to fit the theme of your party. Any one of them will make it a special day.
Frequently Asked Questions About Concession Machines Rentals